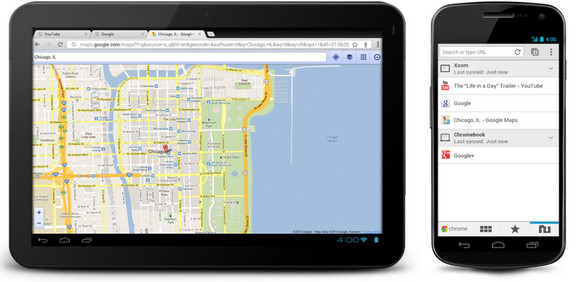 We're big fans of Google's Chrome desktop browser, so we're stoked to see that the search engine giant has now released a mobile version for the Android mobile OS.
Chrome for Android Beta is now available for phones or tablet running the latest Android 4.0 Ice Cream Sandwich OS and promises a "personalised web browsing experience."
Here's how Google big up some of the features:
Speed
With Chrome for Android, you can search, navigate and browse fast—Chrome fast. You can scroll through web pages as quickly as you can flick your finger. When searching, your top search results are loaded in the background as you type so pages appear instantly. And of course, both search and navigation can all be done quickly from the Chrome omnibox.

Simplicity
Chrome for Android is designed from the ground up for mobile devices. We reimagined tabs so they fit just as naturally on a small-screen phone as they do on a larger screen tablet. You can flip or swipe between an unlimited number of tabs using intuitive gestures, as if you're holding a deck of cards in the palm of your hands, each one a new window to the web.
The app also comes with Link Preview which makes it easier to select links by automatically zooming on the text.
There's also an incognito mode for private browsing, with tabs being synced across from your desktop browser, as well as 'smarter' autocomplete suggestions and bookmark sync.
Chrome is now available in Beta from Android Market – but reember: don't bother clicking if you're running anything other than Android 4.0!