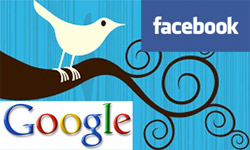 Google has revealed early details of a new product called "Social Search."
Speaking at the Web 2.0 Conference, Google's Marissa Mayer, VP Search Products & User Experience, said that the product came about after the search engine giant had mulled over how social networks might improve the search experience.
A brief demo was shown to journalists, and it showed content created by people in a user's social network being displayed in the 'One Box,' which sits at the bottom of the Google search page.
This information can be drawn from any number of social networks, like  Facebook, Twitter and LinkedIn etc.
Del Boy
So, if someone typed in 'Peckham' the search results would show the usual globally relevant links at the top, but at the bottom would be results from a user's social graph – like photos from their friend's trip to Trotters Independent Traders market stall.
Users must first sign in to Google to enjoy the extra functionality, and would need to have told the program which profiles on the various social networks belong to them.
With Google announcing yesterday that they would be featuring Twitter's real-time data in their search results, this continues the trend of growing integration with the most important internet trends in recent years: search and social networking.