Although Google apparently waved a $550m wad in the direction of  Yelp last year, they found themselves turned down by the local search, social networking and user review site.
That decision may prove to be a bit of a whoopsie for Yelp, seeing as Google has just charged straight into the heart of their core business with the release of Google Places, which comes bundled with Google Maps for mobile v4.4.
The updated Android app now offers a dedicated Places icon that appears in the app launcher – in effect making Places a standalone app.
Just like with Yelp, clicking in the app takes you to a screen offering to search for local places like restaurants, bars, hotels, restaurants, coffee bars and gas stations.
Again, just like with Yelp, clicking on the restaurants icon brings up a detailed listing of nearby eateries, complete with user reviews pulled in from a multitude of sites plus address details, ratings, contact info and directions – and it seems that some of that content is sourced from Yelp themselves.   Oof! Take that Yelp!
No check in…. yet
One thing that's not there (yet) is the ability to 'check in' to places and earn virtual badges or items.
Yelp recently introduced this feature (no doubt inspired by the likes of Foursquare and Gowalla), but we expect that it's only a matter of time before similar functionality is added.
Android users can find Google Maps for mobile 4.4  in the Android Market (or scan in the QR code here).
Blackberry app on the way
Google have said that the updated Places app is also headed to BlackBerry users soon – but there's no word about iPhone users yet.
We'll look forward to reading the reaction from Yelp….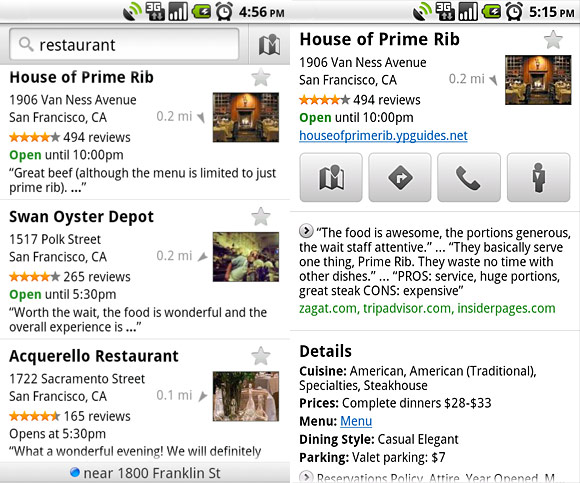 The official line
Here's Google's full press release from their blog:
An Even Better Way to Find Places Nearby

With six updates in six months, Google Maps for Android has been getting plenty of new features, both big and small. A continued focus with each update has been on giving you better ways to find places nearby. In the most recent updates, Maps has gotten features like swiping between search results and info like photos, reviews, and more helpful content on the result pages. With today's launch of Google Maps for mobile 4.4, we're introducing an even easier way to find places around you: a dedicated Places icon that lets you quickly look up nearby places and pick a place to go using updated Place Pages, just like on your computer.

On Android-powered phones with Google Maps 4.4, you'll find the new Places icon in the app launcher with the rest of your apps. Press and drag it right onto your home screen to use it when you're looking for a restaurant, shoe store, movie theater or any other type of local business. You'll get a detailed list of all the nearest places and can choose one to learn more about it on its Place Page.

Search for several convenient types of places with the default categories or add your own for your most frequent searches. You can also use the search bar at the top to type or speak any query. I tend to use the "coffee" search a lot, but I've also looked for "gas stations" on the road, "ice cream shops" in my neighborhood, and even specific places like "Chelsea Market" on a recent trip to New York.

Of course, you'll often want to learn more before deciding where to go. With updated Place Pages, you should be able to find all you need to know about a place, whether you're wandering into a new restaurant or deciding from your couch. In addition to photos and reviews, Place Pages now have a bunch of new details, such as prices, parking and menu links to inform your quest for the perfect steak. You'll also notice that the search results list now highlights business opening hours in addition to compass direction and distance — consider it your late night caffeine radar.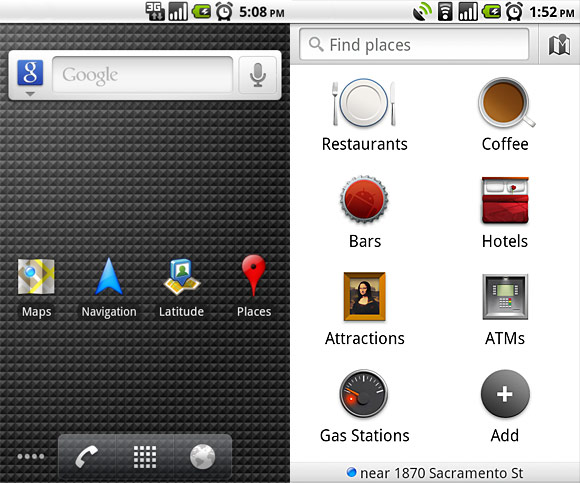 Google Maps for mobile 4.4 is available now for Android 1.6 and above. Just search for Google Maps in Market or tap here from your phone. The Place Page and search result updates are coming soon for BlackBerry users so keep an eye out for an update at m.google.com/maps (from your BlackBerry Browser) or on our Twitter and Facebook pages.

Visit our Help Center to learn more, ask questions in our Help Forum, or give us suggestions and vote on other people's on the Mobile Product Ideas page.