One of the advantages of being an Android user is that the mobile platform is often the first to be served the freshest slices of Google goodness, in this case the brand spanking new,  Google Maps on Android 4.7 app.
Recommendations as you perambulate
Offering 'personalised recommendations on the go,' the latest version of Google Maps on Android sports their new local recommendation engine that "helps you discover places you'll love based on opinions from you and your friends."
The app lets users write and publish ratings and reviews from your mobile phone, courtesy of a new rating widget designed for rating places on the go. This is installed from the homescreen by going to Menu > Add > Widgets > Rate Places.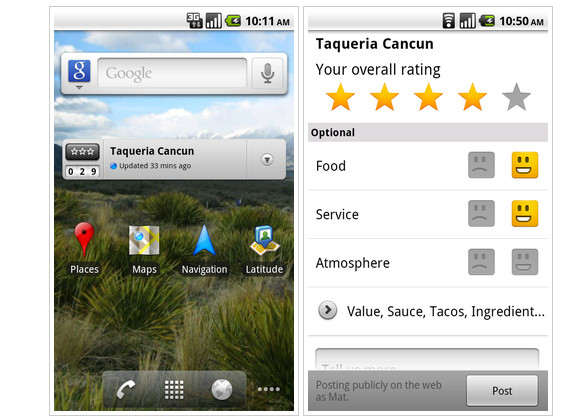 Ratings and reviews can also be added from within any Place page with Google throwing personalised recommendations into the mix:
Why rate the places you've been? First, your ratings will personalize your search results by customizing them according to your tastes. Even better, when you add friends to the mix using Hotpot on your computer, your ratings will point them in the direction of the best enchiladas in town the next time they crave Mexican food, wherever they happen to be.

Of course, this works the other way too — so to reap the rewards, you'll want to add friends to get recommendations for the places they love.
Get Google Maps 4.7 for Android 1.6 and above is now available in Android Market – iPhone users can expect their very own app "soon"