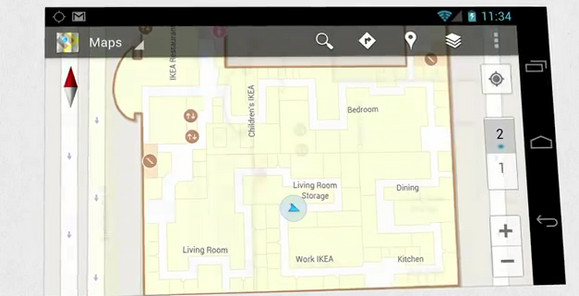 Although Google Maps is great for finding your way around streets and cities, up until now it's only taken care of the outside of buildings.
Google Maps for Android 6.0 now lets you take a look inside selected buildings, serving up detailed information about shopping mall floor plans and airport and store layouts.
Google explains how the new function will work:
Detailed floor plans automatically appear when you're viewing the map and zoomed in on a building where indoor map data is available. The familiar "blue dot" icon indicates your location within several meters, and when you move up or down a level in a building with multiple floors, the interface will automatically update to display which floor you're on. All this is achieved by using an approach similar to that of 'My Location' for outdoor spaces, but fine tuned for indoors.
Although Google have no plans to start measuring up the walls and doors in residential homes, the company has already partnered up with some of the largest retailers, airports and transit stations in the U.S. and Japan.
These include Mall of America, IKEA, The Home Depot, select Macy's and Bloomingdale's, Daimaru, Takashimaya and Mitsukoshi locations, Hartsfield-Jackson Atlanta International Airport (ATL), Chicago O'Hare (ORD), San Francisco International Airport (SFO) and Narita International (NRT), among others.
You'll note that there's no UK locations listed yet, which is a bit of a bummer for us cartographically craving Brits.
A full listing of participating locations can be found here, with Google promising to be 'continually' adding new indoor maps to public buildings across the world.
For now, this feature is Android-only.