Currently hurtling towards Android handsets everywhere is the latest, greatest version of the Google Maps for Android app, promising even better ways to find information about nearby places.
New Place pages
Blasting straight out of the Googleplex is the latest Google Maps 4.6 update which comes with a new design for Place page reviews, serves up more options to filter search results and also offers a Google Latitude real-time updating option.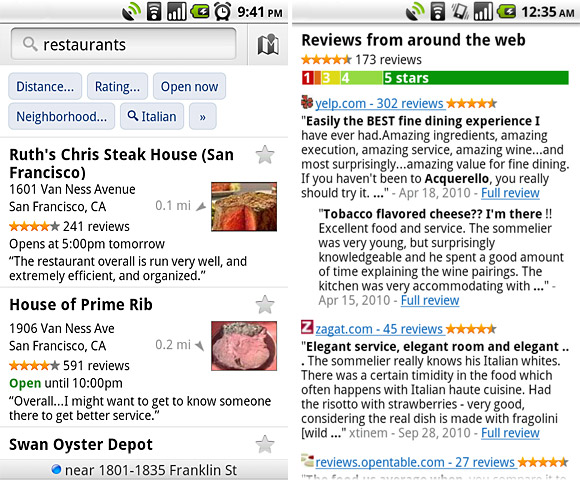 Place page reviews
There's also an updated Place interface letting users browse reviews from around the web, and rummage through  'high-quality reviews' about the place you're checking out, along with possibly lower quality reviews from Google users.
Filter search results
As well as filtering searches by distance and ratings, the new app lets you search by:
Open now
Neighbourhood
Related searches
Google Latitude real-time updating
If you're looking to hook up with a friend for a coffee or whatever, an experimental "Real-time updating" option in Latitude lets you temporarily receive faster location updates about their progress (assuming they also have Maps 4.6 and Android 2.2+ installed and have OK's your stalkery activities).
Get in!
Google Maps 4.6 for Android runs on all versions of Android from 1.6 upwards, and can be downloaded for nowt from the Android Market right now (or tap here if you're reading this on your phone).