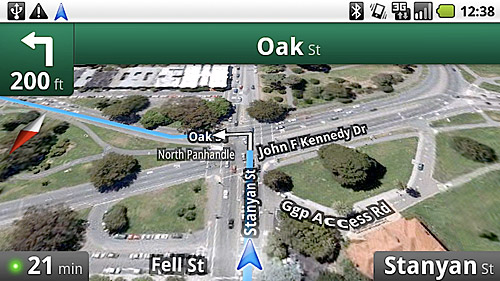 Great anguished shrieks of doom were probably heard echoing around the offices of TomTom and Garmin as Google unveiled their new Maps Navigation tool.
Like all Google releases, it'll probably remain rooted in beta for the next few years, but it already seems a polished enough product to set knees a-trembling amongst the traditional GPS sat nav vendors.
Google's  free app represents a hugely upgraded version of its current Maps software, and serves up a fully fledged satnav package, powered by Google's smartypants thinking.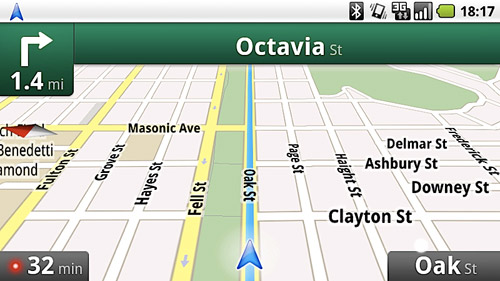 Built on the foundation of  Google Maps, users can search for name of a business and get the closest geographic and semantic matches, plus traffic data, turn-by-turn navigation (courtesy of a robo-woman's voice), satellite and street view integration, and it'll even tell drivers what lane they need to be in to exit a motorway.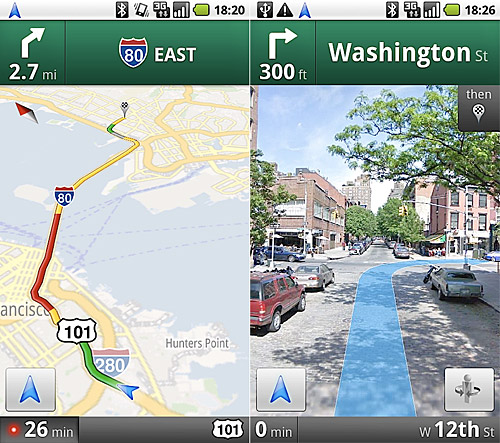 The traffic icon you can see in the bottom corner (above) is set to green, yellow and red according to flow of traffic, and it's displayed next to the calculated arrival time. Clicking on the dot  zooms the map out to show congestion points along your route.
With its ability to dig deep into Google's ample mapping and data resources, the app can even intelligently guide you to petrol stations and fast food joints that aren't too far off your route (instead of just dumbly locating the nearest matches).
Individual address favourites can also be parked on the Android home screen, with trips and their respective visual feeds cached for the times when the coverage vanishes.
There's no news about versions for other mobile operating platforms (we're thinking iPhone users will be the last in the queue given Apple's usual intransigence over Google matters), but this development must be striking fear into the Tom Tom world.
After all, what consumer is going to pay £50 to Tom Tom for something they can get for free from Google?
Google's announcement
Here's the full announcement from Google's blog:
Since 2005, millions of people have relied on

Google Maps for mobile

to get directions on the go. However, there's always been one problem: Once you're behind the wheel, a list of driving directions just isn't that easy to use. It doesn't tell you when your turn is coming up. And if you miss a turn? Forget it, you're on your own.


Today we're excited to announce the next step for Google Maps for mobile:

Google Maps Navigation (Beta)

for Android 2.0 devices.

This new feature comes with everything you'd expect to find in a GPS navigation system, like 3D views, turn-by-turn voice guidance and automatic rerouting. But unlike most navigation systems, Google Maps Navigation was built from the ground up to take advantage of your phone's Internet connection.

Here are seven features that are possible because Google Maps Navigation is connected to the Internet:

The most recent map and business data
When you use Google Maps Navigation, your phone automatically gets the most up-to-date maps and business listings from Google Maps — you never need to buy map upgrades or update your device. And this data is continuously improving, thanks to users who report maps issues and businesses who activate their listings with Google Local Business Center.

Search in plain English
Google Maps Navigation brings the speed, power and simplicity of Google search to your car. If you don't know the address you're looking for, don't worry. Simply enter the name of a business, a landmark or just about anything into the search box, and Google will find it for you. Then press "Navigate", and you're on your way.

Search by voice
Typing on a phone can be difficult, especially in the car, so with Google Maps Navigation, you can say your destination instead. Hold down the search button to activate voice search, then tell your phone what you want to do (like "Navigate to Pike Place in Seattle"), and navigation will start automatically.

Traffic view
Google Maps Navigation gets live traffic data over the Internet. A traffic indicator light in the corner of the screen glows green, yellow or red, depending on the current traffic conditions along your route. If there's a jam ahead of you, you'll know. To get more details, tap the light to zoom out to an aerial view showing traffic speeds and incidents ahead. And if the traffic doesn't look good, you can choose an alternate route.

Search along route
For those times when you're already on the road and need to find a business, Google Maps Navigation searches along your route to give you results that won't take you far from your path. You can search for a specific business by name or by type, or you can turn on popular layers, such as gas stations, restaurants or parking.

Satellite view
Google Maps Navigation uses the same satellite imagery as Google Maps on the desktop to help you get to your destination. Turn on the satellite layer for a high-resolution, 3D view of your upcoming route. Besides looking cool, satellite view can help you make sense of complicated maneuvers.

Street View
If you want to know what your next turn looks like, double-tap the map to zoom into Street View, which shows the turn as you'll see it, with your route overlaid. And since locating an address can sometimes be tricky, we'll show you a picture of your destination as you approach the end of your route, so you'll know exactly what to look for.

Since there's nothing quite like seeing the product in action, we made this video to demonstrate a real-life example:
Check out the Google Maps Navigation page to learn more and browse a gallery of product screenshots. Take Google Maps Navigation for a spin, and bring Internet-connected GPS navigation with you in your car.