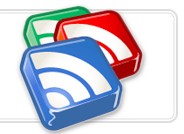 Google Reader – which has long been our #1 blog and RSS reader – has just got a whole load better. Oh yes, indeedy!
The search engine giant has announced that the browser-based reader will now be able to track changes and updates to websites that currently don't provide news feeds – so you'll now be able to track any site you're interested in.
Creating your own "custom feeds" is easy-peasy too, as Google's official blog explains:
Feeds make it easy to follow updates to all kinds of webpages, from blogs to news sites to Craigslist queries, but unfortunately not all pages on the web have feeds. Today we're rolling out a change in Google Reader that lets you create a custom feed to track changes on pages that don't have their own feed.

These custom feeds are most useful if you want to be alerted whenever a specific page has been updated.

For example, if you wanted to follow Google.org's latest products, just type "http://www.google.org/products.html" into Reader's "Add a subscription" field.

Click "create a feed", and Reader will periodically visit the page and publish any significant changes it finds as items in a custom feed created just for that page.
Google will then provide short snippets of tracked page changes to help users decide if the page is worth revisiting. The company also say that they're working to improve the quality of of these snippets.
For web site owners who aren't keen on their visitors using this service, there's the option to, err, opt-out.
[Via]