Google have announced what they're describing as "the next generation of ad serving technology for online publishers," and are calling it DoubleClick for Publishers (DFP).
DoubleClick for Publishers is a platform designed to help small business and publishers to more effectively sell, manage, deliver and track both directly and indirectly sold advertising campaigns across their websites.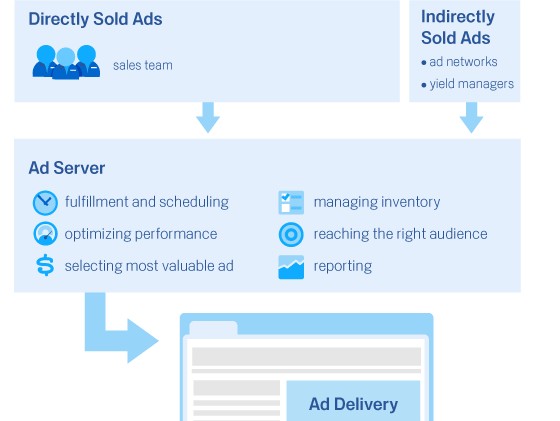 We don't do any of that kind of thing, but if it's of interest to you, here's Google's press release to explain it all:
Today, we're announcing the next generation of ad serving technology for online publishers — DoubleClick for Publishers (DFP).

For the past few years, we've been investing in a suite of solutions — AdSense, ad-serving technology and the DoubleClick Ad Exchange — to help online publishers make the most money possible from their content, whether they sell advertising directly through their own sales force, through an ad network such as AdSense, or a combination of both.

For major online publishers — including social networks and online communities, entertainment sites, e-commerce sites and news sites — managing, delivering and measuring the performance of ads on their websites can be a hugely complicated process. A publisher's ability to manage this process can have a significant impact on how much money they make from their online content.

Imagine you're a major online publisher with a popular global surfing website and an ad sales team. Every second of every day, you have difficult decisions about what ads to show and how to measure their relative performance. For example:

In the same ad space, a surfboard wax advertiser may want to run a static image ad for your Australian readers, while an airline offering flights to Hawaii may want to run an expandable interactive ad for your American readers.
A fast-food restaurant wants to run their burger ads before noon and their pizza ads in the afternoon.
You've sold 10 different surfboard makers a million ad slots at slightly different prices; now you have to allocate them across your various webpages to fulfill all these orders over the next two weeks.
One of your surfing tournament reviews is linked to by a popular news site and you have a surge in traffic. Your sales team couldn't predict this, so you're potentially left without any ads for thousands of readers. You want to fill this ad space by selling it via an ad network which has ads available.

This is really just scratching the surface. Managing ad space can involve faxes, emailed orders, the manual scheduling of different ad campaigns across multiple sites and difficult decisions about how to allocate ad space most effectively.

Major online publishers use ad serving technology to manage the complex process of how and when the ads they have sold appear on their websites. In recent years, we've invested significantly in our ad serving products — DoubleClick's DART for Publishers for large publishers and Google Ad Manager for growing publishers. Thousands of major online publishers use these products to serve billions of ad impressions every day.