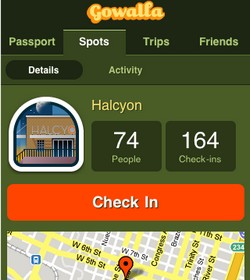 It's proved a hit on the iPhone (mainly in the States), and now the doodz at Gowalla are hurling their popular location-based social networking game in the direction of the Android community.
Joining Google Buzz, Foursquare and all the other location based services hustlin' and a-bustlin' to grab the biggest slice of this growing, err, pie, Gowalla's new beta Android-optimised site can be found at m.gowalla.com.
Today Android, Tomorrow the world.
With Gowalla for Mobile Web now supporting the location-aware browsers on Android and iPhone OS devices (including wi-fi connected iPod touch's), the company are prepping a multi platform onslaught, with Blackberry and Palm users set to be joining the Gowallaing throng.
Bugs
As its still in beta there's still a few bugs lurking –  users are currently not able to create new spots or swap items on the mobile web – but  Gowalla assures us that these features will be shoehorned in pronto.
Oh, and you know when you hear an unusual name and think it's rubbish but then find that it's slowly grown on you until you love it?
Well, Gowalla is still a rubbish name. And this slightly smug video doesn't make us warm to the service much either. How about you guys?
[Gowalla]