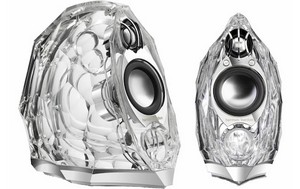 Aimed at audiophiles with ravine-deep pockets (and, let's be honest, questionable style) is Harman Kardon's high end GLA-55 speaker system.
Looking like a mix between an air freshener and something you'd find on the set of the first Star Trek series, the GLA-55's aim to serve up the sweetest sonic delights, as enthusiastically described by its makers:
Every detail of the GLA-55, from the facets of its bass-reflex enclosures to its custom chrome tubing, has been designed to complement its astonishingly high sonic quality.
Sporting touch-sensitive volume controls, the GLA-55 system is apparently "audio luxury defined," and it's now available in the UK in time for well-heeled Christmas shoppers.
The bizarre speakers employ several proprietary technologies to serve up the highest quality sound possible, which according to Harman Kardon include: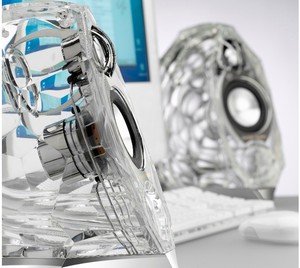 CMMD drivers providing accurate high frequencies, which are also capable of low-frequency extension to four octaves; the Atlas AL drivers are capable of nearly 2,5 cm peak-to-peak travel for tight, accurate bass reproduction to produce a full, rich frequency response.

Slipstream Port Design – The GLA-55 port minimises boundary layer separation, providing high-output bass with low distortion insist the makers.

COE (Computer-Optimized Equalization) – The system equalisation is computer-optimised to provide a rich, complete soundstage over a wide range of listening positions.

OCT (Optimized Compression Topology) – The GLA-55 system utilises a proprietary compression technology to ensure clean, accurate sound at high output levels.
Compatible with Mac and PC desktop computers, laptops, MP3 and portable media players and virtually any audio device with a 3.5mm (1/8″) output, the Harman Kardon GLA-55 system is priced at a fearsome £750.
To be honest, if we were splashing out that kind of cash for a speaker system we'd rather have something that looked a little less, well, daft, but what do you lot think? Is is stylish or just plain weird?