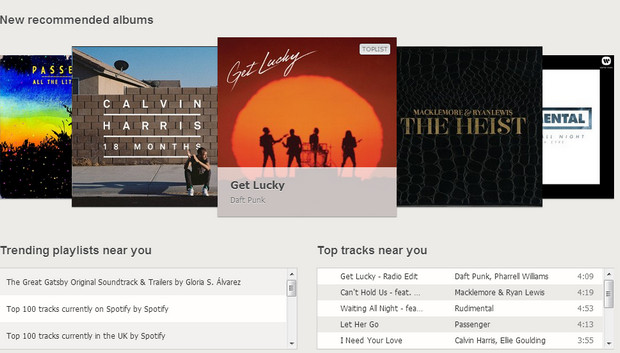 Spotify has revealed its 25 most popular playlists, and they're every bit as mainstream as you might expect.
To paraphrase Radiohead, there's no alarms and no surprises here.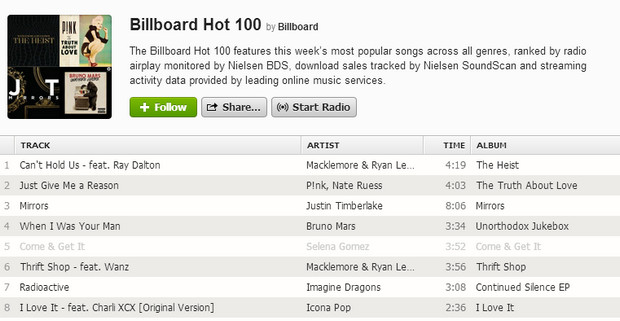 Sitting at number one is the Billboard Hot 100, followed by a stream of more pop-tastic selections.
Country music selections appear several times, along with more pop, some yawn-inducing Mumford & Sons (who the hell likes their stuff?), with the top 25 finishing with a bit of piano music, some daft 'brain power' classical and some Disney fluff.
Here's the full top 25.  Click on the link to see the full playlists.
1) Billboard Hot 100 by Billboard

2) Top 100 Tracks Currently on Spotify by Spotify

3) Hipster International by Sean Parker

4) '90s SMASH HITS! by Filtr US

5) Weekly Top 40 Country by Chad Krivanec

6) Billboard Country Songs by Billboard

7) Digster HITS! – Updated 4/8 by Digster Playlist

8) TOP OF THE CHARTS PLAYLIST by Filtr US

9) Topsify – USA TOP 40 by Topsify Playlists

10) Digster HIP HOP HITS! – Updated 4/8 by Digster Playlists

11) '80s SMASH HITS! by Filtr US

12) pitch perfect soundtrack by Carroll Neale

13) Digster COUNTRY HITS by Digster Playlists

14) Classic Rock 70'S 80'S & 90'S by juan20150

15) HBO Girls Soundtrack by Jillian Nichols

16) Mumford and Sons by Diane Laura

17) Billboard R&B/Hip-Hop Songs by Billboard

18) 90's – The Best Of Greatest Ultimate List by WBR by Warner Bros Records

19) Digster DANCEFLOOR – Updated 4/8 by Digster Playlists

20) Relaxing Piano Music Consort – Time to Relax- Relaxing, Calming, Stress Relief Classical Music for Healing by Magnus Rosell

21) Billboard Country Songs by Billboard

22) Top 100 of the Most Beautiful Songs From Reddit by dansecaribe

23) Les Miserables Recordings by Austin Mazza

24 Exam Study Classical Music Orchestra – Exam Study Classical Music to Increase Brain Power, Classical Study Music for Relaxation, Concentration and Focus on Learning – Classical Music and Classical Songs by Santiago Jaramillo

25) Disney Timeless Movie Love Songs by Walt Disney
[Via]