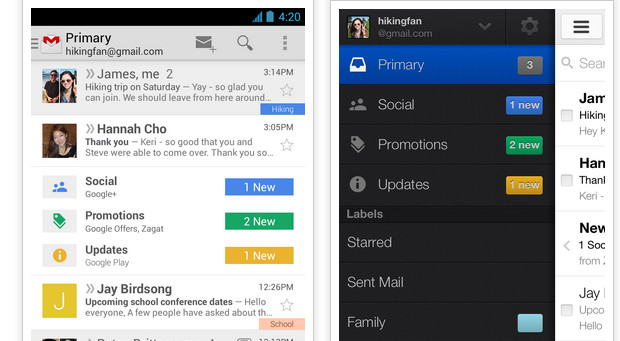 Google is in the process of updating its GMail interface, with new inbox groups that automatically sort your mail into categories which appear as different tabs.
The new interface lets users select which categories they want activated, and make tabs for messages from friends, social notifications, deals and offers, confirmations and receipts, and more.
Users can customise the new inbox by selecting the tabs they want (from all five to none) and then drag-and-drop to move messages between tabs, set certain senders to always appear in a particular tab and star messages so that they also appear in the Primary tab.
The Gmail for Android 4.0+ and Gmail for iPhone and iPad apps will show the Primary mail by default when opened, with the ability to  navigate to the other tabs.
If none of this sounds like the sort of thing you like, you can just turn it al off and go back to classic view,
The new inbox is now rolling out, with the desktop, Android and iOS versions set to appear 'within the next few weeks.'