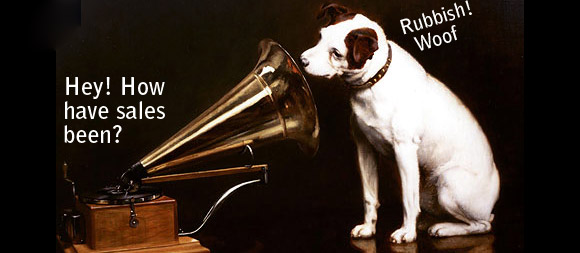 With sales reeling from the punter-repelling harsh Christmas weather, entertainment retailer HMV Group has reported that it will need to take "aggressive action" to cut costs, with approximately 10% of its retail stores expected to close.
Sixty stores to go
The company says that it will be shutting around 40 HMV and 20 Waterstone's stores after like-for-like sales fell 13.6% in the five weeks to 1 January, blaming the "challenging entertainment markets, combined with the severe weather over the peak trading period".
Shares in the HMV Group obligingly crashed 24% after the figures were released, with the company 'fessing up to rubbish sales, weak profits and its problems meeting the terms of a bank loan.
HMV's share price has been slipping'n'siding for over a year, with the latest slump bringing its cumulative fall to a shareholder-panicking 78% over the last 13 months.
CD demand drying up
With many consumers heading online for their music and media needs, CD and DVD sales continue to dry up, with HMV chief executive Simon Fox commenting, "The pace of change in the markets in which we operate underlines the urgency with which we must continue to transform this business."
The only good news for the company was the fact that sales at its Waterstone's bookstores held up, with 2010 Christmas period sales comparable to those a year ago.
Bad times for record stores
The outlook for record stores is pretty much bleak everywhere – our favourite Cardiff independent store Spillers is just about managing to survive, but remains wounded after market forces wrenched them from their prime location in the centre of town.
Big names like Virgin, Borders, Zavvi and Tower have all vanished from the centre of London, and smaller stores are barely hanging on.
But before you start shedding real tears and penning eulogies at the news of your local store closing, ask yourself one question: when was the last time you bought something from them?
[Via]