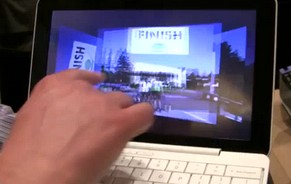 HP have hooked up with Telefonica to create the Android-powered Airlife 100.
Touted as a 'smartbook' – that's a hybrid of a smart phone and a netbook to you – the 10.1-inch touchscreen Airlife will be offered in Europe and Latin America with a carrier subsidy as part of as Telefonica's mobile broadband service (so it'll be on o2 in the UK).
The video shows the smartbook running a version of Android with a customised interface.
There's much onscreen a-flickin' going on, with a fairly slick touchscreen interface motoring along nicely on a 1GHz Snapdragon chip, backed by 16GB SSD of memory.
Battery life is pegged at a healthy 12 hours and there's also WiFi, and 3G onboard.
We rather like the look of this fella, but our wallets won't start twitching until we see the all-important price. – although we do wonder if they couldn't double its appeal instantly if they just got rid of the keyboard and made it a tablet.