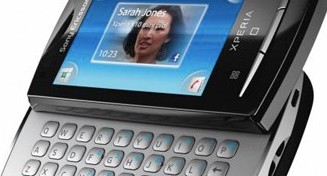 So cute and tiddly you just might want to give them a lickle hug are the new Sony Ericsson 'Xperia X10 mini' and 'Xperia X10 mini pro' pint-sized handsets.
Both phones are just about identical apart from the pro version packing a QWERTY keyboard and there being a different selection of colours available at launch.
The mini will be flaunting itself in black, pearl white, lime, pink, red and silver, while the mini pro looks to be aiming for a goth clientèle, being offered in just black and red.
Although the pro comes with a physical keyboard, there's not a great deal of difference in size between the handsets, with the measurements being: Xperia X10 mini: 83 x 50 x 16 mm;  Xperia X10 mini pro: 90 x 52 x 17 mm.
Both the handsets purr along on the Android 1.6 OS, and are powered by a 600MHz Qualcomm MSM7227 processor.
There'll be both North American and global 3G variants on launch, veritably bristling with quad-band EDGE, WiFi and Bluetooth, with a bundled 2GB microSD card lobbed in for the LOLs.
Timescape
Running on top of the regular Android OS, is Sony Ericsson's Timescape UI which lets you access all your Facebook status updates, friends photos, inbox messages and friend requests, Tweets, text and picture messages and all your other social networking gubbins in one place.
The screen is a disappointing 2.5-inch 240 x 320 pixels (QVGA) touchscreen job, and the phones are expected to be sliding down Sony Ericsson's slipway some time in Q2.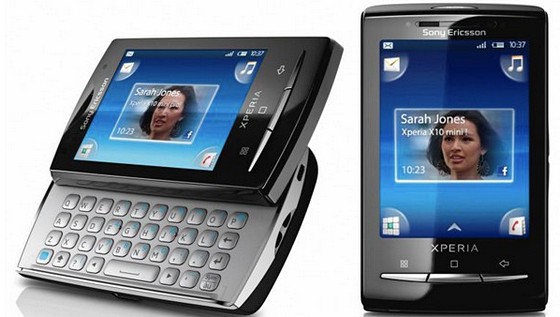 Specs:
Xperia™ X10 mini and X10 mini pro

Camera
5 megapixel camera
Auto focus
Geo tagging
Photo and video light
Sony Ericsson Album application
Video recording
Music
Bluetooth stereo (A2DP)
Music player
PlayNow
TrackID
Web
Bookmarks
Pan and zoom
WebKit web browser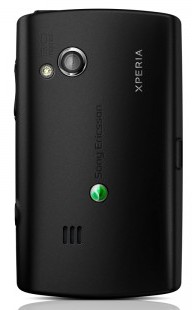 Communication
Sony Ericsson Timescape™ with…
– Facebook status updates, friend's photo, inbox messages and friend requests
– tweets, replies and direct messages from people you follow on Twitter™
– incoming text and picture messages
– missed calls
Messaging
Email
Instant messaging
Microsoft Exchange ActiveSync
Picture messaging (MMS)
Predictive text input
Text messaging (SMS)
Design
Auto rotate
Full slide out keyboard (X10 mini pro only)
Picture wallpaper
Touchscreen
Entertainment
Infinite button
Quadrapop game
Sony Ericsson FM radio
Video player
Video streaming
Organiser
Calendar
Flight mode
Phone book with dialer
Sony Ericsson Home with widget
Tasks
Location-based services
A-GPS
Google Maps™
Wisepilot™ turn-by-turn navigation* (free trial version)
Connectivity
3.5 mm audio jack
Bluetooth technology
Micro USB connector
NeoReader barcode scanning app
Sony Ericsson Sync
USB mass storage support
USB support
Wi-Fi
Google™ Services
Android Market
Gmail
Google Maps with Street View
Google Search Widget
Google Talk
Google Voice Search**** The Google Voice Search service is not available in all markets
YouTube™
Screen
16,777,216 colour TFT touchscreen
2.55 inches
240 x 320 pixels (QVGA)
Scratch-resistant
Accessories
In-Box:
Sony Ericsson Xperia™ X10 mini/ Xperia™ X10 mini pro with battery
Micro USB cable for charging, synchronisation and file transfer
Stereo portable handsfree
2GB microSD™ memory card
User documentation
Optional:
Portable Stereo Speakers MS450
Hi-Fi Headset with Remote MH810
Facts
Xperia X10 mini:
Size: 83 x 50 x 16 mm
Weight: 88 grams
Phone memory: Up to 128MB
Memory card support: SanDisk microSD, up to 16 GB
Memory card included: 2GB
Operating system: Google Android 1.6
Processor: 600 MHz Qualcomm MSM7227
Talk time GSM/GPRS: Up to 4 hours
Standby time: GSM/GPRS: Up to 285hrs
Talk time UMTS: Up to 3.5 hours
Standby time: UMTS: Up to 360 hrs
Xperia X10 mini pro:
Size: 90 x 52 x 17 mm
Weight: 120 grams
Phone memory: Up to 128MB
Memory card support: SanDisk microSD™, up to 16 GB
Memory card included: 2GB
Operating system: Google Android 1.6
Processor: 600 MHz Qualcomm MSM7227
Talk time GSM/GPRS: Up to 4 hours
Standby time: GSM/GPRS: Up to 285hrs
Talk time UMTS: Up to 3.5 hours
Standby time: UMTS: Up to 360 hrs
Availability and versions
Networks
UMTS HSPA 900/2100
GSM GPRS/EDGE 850/900/1800/1900
UMTS HSPA 850/1900/2100
GSM GPRS/EDGE 850/900/1800/1900
Available in selected markets in Q2 2010
Colour
Xperia™ X10 mini:
Black
Pearl White
Lime
Pink
Red
Silver
Xperia X10 mini pro:
Black
Red