Kudos have to go to Vodafone for troubling themselves to roll out a Froyo Android 2.2 update for the near forgotten HTC Magic handset, which was first released back in May 2009.
Modest little number
It has to be said, the HTC Magic didn't set the world alight with its specs, boasting a modest 528MHz CPU backed by 288MB of RAM, but it was a decent enough performer at an attractively low price, even if it was burdened with Ye Olde Android 1.6.
Vodafone has just announced that it will be bringing an early Christmas present to their HTC Magic customers by dragging the handset right into the end of 2010 with a Froyo (Android 2.2.) update for the device.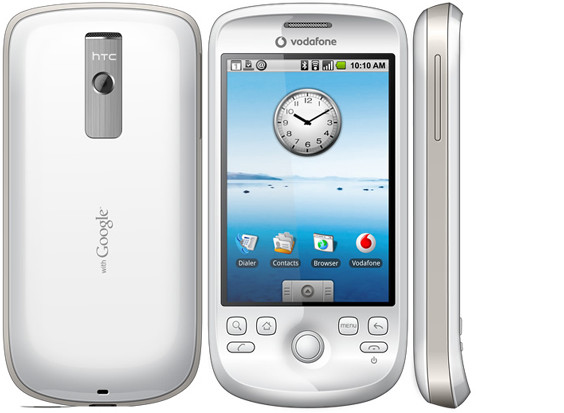 A statement on the Vodafone forums reads:
Android 2.2.1 will give customers a number of improvements including: latest Gmail and Android Market clients; ability to save applications directly onto an SD card; support for USB tethering so the phone can be used as a modem; improved support for Active Sync Exchange (email, contacts and calendar sync); enhancements to Bluetooth; and enhancements to the camera. The update also includes the latest Google security patches.
If you're the owner of a HTC Magic on the Vodafone network, you can expect a notification to update your phone's software soon, as the update is rolling out gradually.
It's quite a hefty update though, so we recommend you sidle up to a Wi-Fi network for the job.
Here's Vodafone's full announcement:
Android 2.2.1 for HTC Magic
Android 2.2.1 (Froyo) is now available to Vodafone HTC Magic customers

Android 2.2.1 will give customers a number of improvements including: latest Gmail and Android Market clients; ability to save applications directly onto an SD card; support for USB tethering so the phone can be used as a modem; improved support for Active Sync Exchange (email, contacts and calendar sync); enhancements to Bluetooth; and enhancements to the camera. The update also includes the latest Google security patches.

How will customers get the latest software?

Customers' devices will receive an automatic notification when the update is available for their handset. They can then choose to accept the update by following the on screen prompts or perform it later.
The roll out of the software is phased, so not all customers will receive this notification at once.
Because it is quite a large update, we'd recommend customers carry it out over WiFi, although it is possible to download it over 3G or GPRS.
The update is a two step download which will be triggered by automatic notification to the customer's handset. The first step will change the bootloader. The second step will install FroYo after the phone has rebooted.

Checking software versions

To check which version of software the HTC Magic has:
1. Press the menu key, then touch "Settings", scroll down to and touch "About phone"
2. The software version will be displayed here