We've been using two Humax PVT 9200T freeview digital set-top boxes around the office for nearly two years, and in recent months we've been suffering increasing problems with the units.
Both have suffered rapidly degrading performances, with the remotes failing to work at times, the fans refusing to turn off when the unit is switched off, and recordings being missed because the unit has 'stuck.'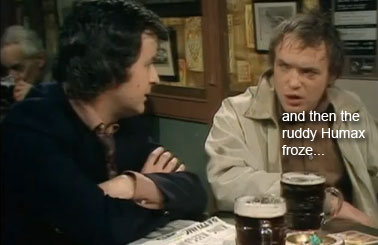 A bit Bob and Terry
When we've been watching recordings of football games, sometimes the fast forward will get 'stuck.'
This means that not only do we fly past the adverts as intended, but then have to watch the entire game hurtling past as we try and wrestle the remote into stopping.
It ends up being a bit like the famous Likely Lads, 'No Hiding Place' episode, where Bob and Terry try to avoid hearing a match score so they can enjoy it on TV later – except in this case we're trying to cover our eyes to avoid seeing the goals onscreen while grappling with the remote.
Sometimes, it's as if the machines are slow to wake up, so that it can take some time before the PVR will respond to instructions from the remote or display any programme information.
Other times, it stays resolutely frozen so that the only way to get the thing working is to physically unplug it and start over.
Frozen standby
Annoyingly, sometimes it will freeze up when in standby mode too, so when we've come back from the pub – curry and tinnies in hand – looking forward to a feast of pre-recorded Cardiff City goals only to find nothing's been recorded.
You wouldn't want to hear what we shout at the PVR during those moments.
Update promised
Looking on the web, there's seems to be no shortage of people suffering similar problems, with very few getting the situation resolved, so we wrote to Humax for assistance.
They acknowledged that there is an "issue that seems to be affecting some users," and that the UK MD is, "on the case and we're
working to get an update from Korea as soon as possible."
We're as fed up as everyone else suffering these problems, so we'll post up news as soon as we hear back from Humax.