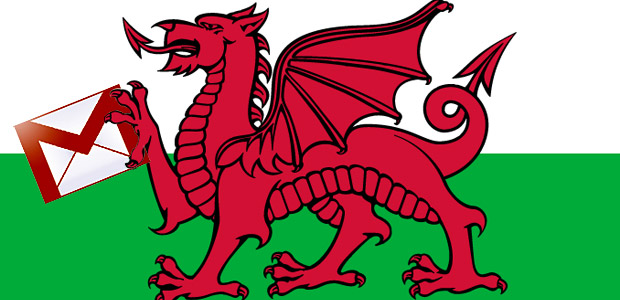 There'll be an extra big welcome in the Valleys for the folks at Google after their announcement that GMail is now supporting the Welsh language, with  Latin American Spanish support also being added to the email app.

The addition of these two languages brings the total number of languages supported in Gmail to 56, reflecting Google's commitment to make GMail more accessible to all.
Google say that they were assisted by the Welsh Language Commissioner, an organisation tasked with promoting the use of the Welsh language.
According to figures from The Welsh Language Board 611,000 people in Wales  (21.7% of the population in households or communal establishments) were able to speak the language in 2004, a figure that is likely to have risen since.
In fact, there's a little piece of Welsh blasting out of the solar system right now, with the greeting "Iechyd da i chwi yn awr ac yn oesoedd" ("Good health to you now and forever") included on the record loaded onto NASA's Voyager spaceship, which was launched in 1977.
Here's Google's announcement:
Languages can provide identity, pride, a sense of belonging and spiritual guidance to communities. We hope that by making Gmail available in both majority and minority languages, more people will be able to share their culture and knowledge with others worldwide. Today, we're very excited to announce that Gmail is now available in Welsh and Latin American Spanish. You can select Welsh and Latin American Spanish as your default language in Settings:

Welsh, as a living language, is used by an increasing number of speakers, in their everyday life. For this project, we'd like to thank the Welsh Language Commissioner for working with us to make Gmail available to Welsh speakers around the world. The project was completed through Google Translator Toolkit, which is a Computer-Aided Translation tool supporting over 100,000 language combinations.
Spanish is spoken by more than 300 million people in the Americas and the Caribbean. The Latin American Spanish version of Gmail is designed to be a closer match to the expectations of Spanish speakers in the Americas.

These two languages bring the total number of supported languages in Gmail to 56.