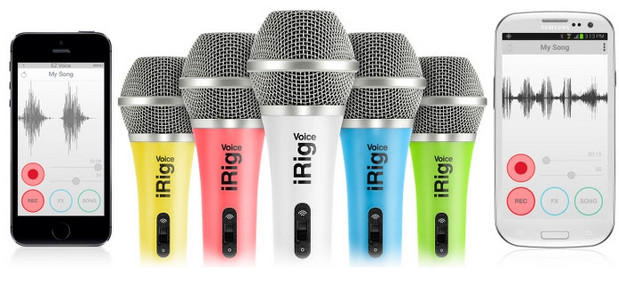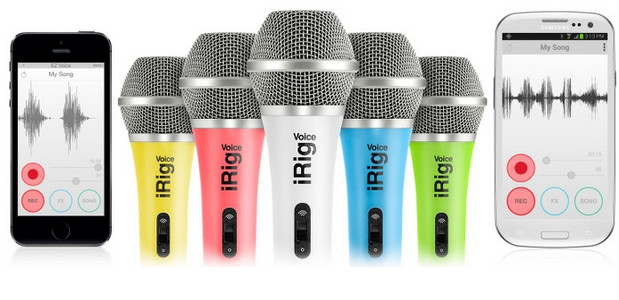 IK Multimedia has announced its colourful new iRig Voice microphone line, billed as a fun, easy-to-use and affordable vocal microphone for iPhone, iPad, iPod touch and Android devices.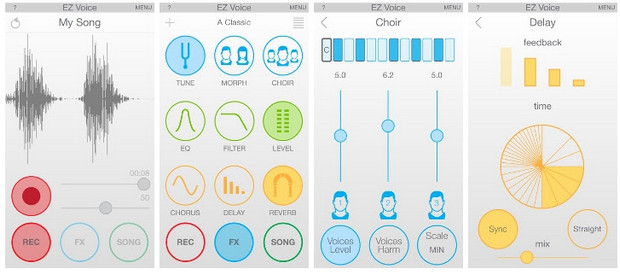 The iRig Voice comes bundled with the free EZ Voice app, which lets potential Celine Dions sing along with/murder any tune on their phone, and record the results.
The mic is designed as the 'perfect companion'  to popular singing and music apps like IK's EZ Voice and Smule's Sing! Karaoke and AutoRap, plus The Voice: On Stage by StarMaker, musiXmatch, Karaoke Anywhere by JoltSoft and more.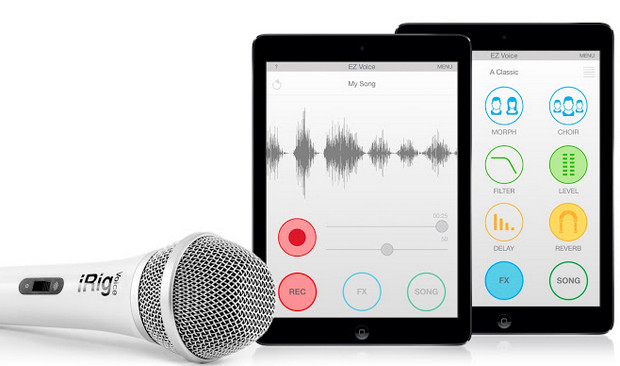 Using a unidirectional cardioid design, the iRig Voice is tuned for optimal vocal frequency range reproduction, and has a handy on/off slide switch for quick muting.
The mic connects through the microphone/headphone jack found on all iOS and Android devices providing a stereo output to connect headphones or earbuds.
Vocally challenged belters can add effects like reverb, chorus, pitch correction to improve their warbling tones, with the option to share their performances via email or SoundCloud.
Available in Green, Blue, Yellow, Pink and White , the iRig Voice costs $39.99/€29.99 (excluding tax).
More: www.irigvoice.com
Rig Voice Specifications
Microphone Type: condenser electret
Polar Pattern: unidirectional/cardioid
Frequency Response: 100 Hz – 15 kHz, -3dB
Maximum Sound Pressure (set for high sound pressure): 105 dB
Distortion: 3% THD at 105 dB, 1 kHz
Windscreen: built-in
Power and Connection: works with iOS, most Android devices (CTIA/AHJ compatible) and most Mac computers
Package includes
Dimensions
Microphone Size: 215mm/8.46″ x 53mm/2.09″ x 53mm/2.09″
Microphone Weight: 253g/8.92oz
Cable Length: 2m/78.74″