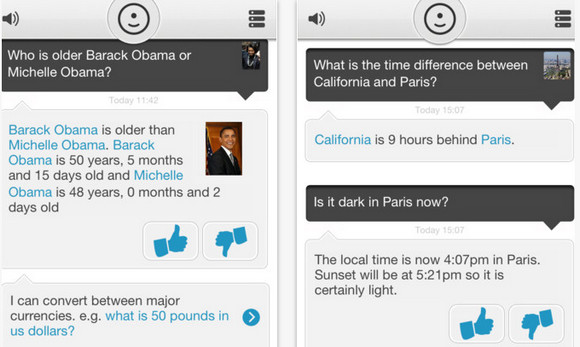 It has to be said that Apple's Siri voice assistant didn't exactly impress us – there's only so many times you can pointlessly shout into your phone and go nowhere – but a new app called Evi is shaping up to be a worthwhile competitor.
Created by Cambridge based developers True Knowledge, the Android/iPhone app claims to have, "revolutionary artificial intelligence," employing, "cutting edge semantic search technology."
Best of all, it can answer questions based in the UK, unlike the US-centric iOS Siri app
Evi differs from standard search engines in that she does not simply trawl the internet to find websites which match the given phrase.

She is able to not only understand natural language, allowing users to speak or type a question as if they were speaking to another person, but she is also able to understand the desire behind the question and present the essential information.

[For example] Evi….will present a list of coffee shops nearby, their distance from your location as well as maps. Evi knows what you want and is able to give you the exact information you need.
Powered by Nuance speech recognition tech, the app did a good job of understanding what was yelled at it, although the response was fairly slow – but in fairness, that's probably down to loads of people all trying the new service at once.
From our brief play around, there seems lots of potential with this new app.
The interface is pleasingly simple, although the lack of device control (i.e. the ability to input memos, texts, calendar entries etc) is a bit miffing.
You can download the app now from the App Store for 69p, or it's free on Android.