Apple has been busy compiling an iPad-specific App Store ready for the launch, with iPad-only apps being approved and organised.
Tech site MacRumors claims to have accessed the iPad's best seller lists which show several of the apps to be made available when the eagerly anticipated/totally over-hyped/Messiah Tablet/over-priced netbook launches.
It's not cheap
Anyone hoping for cheap'n'cheerful iPhone-like pricing looks set to be disappointed, with the listing showing app prices growing in line with the size of the device:
Flight Control HD – $4.99
Real Racing HD – $9.99
Labyrinth 2 HD – $7.99
Piano Lesson PianoMan for iPad – $2.99
Cro-Mag Rally for iPad – $9.99
Enigmo Deluxe – $9.99
Manic Marble 2 for iPad – $3.99
Otto Matic for iPad – $9.99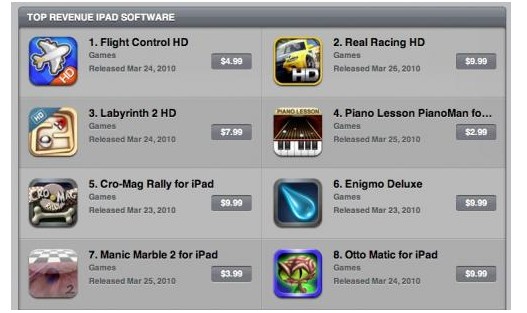 Things get even more expensive too, with OmniGraphSketcher listed at $14.99 and AppAdvice discovering Omni Group's diagram creating app, OmniGraffle, being priced at an eye-watering $49.99.
The success of the iPhone's app store was down to its low pricing that was cheap enough for folks to buy apps on impulse, with successful developers making their money from the volume of sales.
We'd certainly think twice about shelling out for games costing over a fiver a pop, and when it comes to productivity apps, we'd be loathe to pay up desktop prices for a tablet that can't even multi-task.
What do you think? Are the prices set to high, or just about right considering its for the iPad?
[Via]