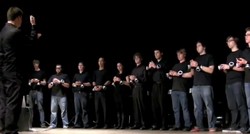 Taking the art of performance to new levels of dullness is this mobile phone ensemble from the University of Michigan, who dutifully trotted out en masse for a live performance, all clad in Steve Jobs-alike outfits.

The interesting part is that the students designed and built the instruments to use on their smartphones, and that the touch-screen, microphone, GPS, compass, wireless sensor and accelerometer have all supposedly been employed to let the  (ahem) 'musicians' make different sounds by using their fingers on the touchscreen, talking into the mic, or using gestures such as tilt or shake.
Although the resulting irritating drone is something that could just as easily be knocked out a cheap laptop costing a fraction of the cost of all those  iPhones, there clearly is some interesting potential here. Perhaps in a year or so, we'll see nothing unusual in watching concerts being performed by musicians using such technology.
Right now however, we'd rather put our heads inside a spin dryer full of bricks than sit through another slab of sub-Rolf Harris droning by the Michigan Mobile Phone Ensemble – but we suspect that they'll have far more interesting musical works and innovations to show in the coming months.
File under: "Has potential."