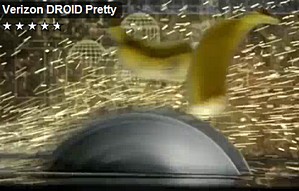 We love seeing big corporates taking pot shots at each other, and Verizon's hilariously over the top onslaught against the iPhone really is worth a view.
Backed by a testosterone-fuelled voice-over and featuring lightning bolts, Scud missiles, little porcelain lambs being crushed and a circular saw cutting through a ripe banana (really!), the gloriously macho ad slams into phones that are, "tiara-wearing digitally clueless beauty pageant queens."
Hairdo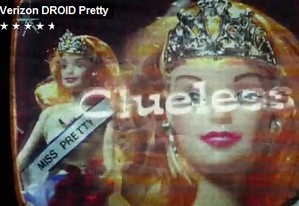 Although the iPhone isn't mentioned by name, it's pretty obvious that's what's being targeted here, with Verizon's deep-voiced beefcake gruffly declaring that their phone isn't a "princess," but a "robot," adding, "Is it a precious porcelain figurine of a phone? In truth, no."
As the bonkers graphics hurtle across the screen to a heavy metal soundtrack, the Droid is described as "Fast. Racing horse duct taped to a scud missile fast," before the killer punch line is delivered: this, apparently, is the phone that "trades hairdo for can do."
We haven't laughed this much at an advert for ages, so we salute Verizon for their utterly ridiculous 30 seconds of entertainment.
We've no idea if it'll be remotely effective but we'll trade circular saws and ripe bananas over smug "there's an App for that" nonsense any day.