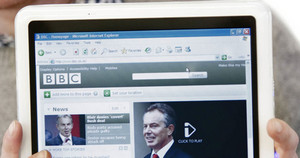 Clearly hoping to scoop up some of that frenzied iPad buzz, UK company X2 Computing has launched their own "iTablet" range of Windows/Linux-based tablet PCs.
Described as coming "hot on the heels of Apple's latest product launch," X2 claims "the iTablet will revolutionise the way that Windows users can access and use data on the move".
The tablet comes in two flavours, both with a bigger screen than the iPad: a 10.2-inch widescreen TFT or a 12.1-inch widescreen XGA, 1024 x 768 resolution touchscreen.
With multi-touch said to be "optional" and the tempting allure of "stunning slimline bezels" on the way, X2 reckon their on-screen keyboard is a breeze to use.
Content can be viewed in portrait or landscape format, with the tablets zipping along on 1.6GHz Intel processors, up to 250GB hard drives, built-in stereo speakers, three USB ports, USB-connected 1.3-megapixel camera, Wi-Fi, Bluetooth and optional HDMI output and 3G.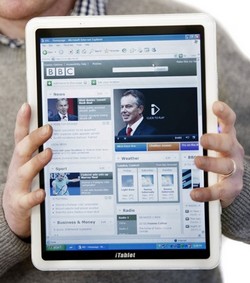 The iTablet can run Windows 7, and thus provide all that lovely full multitasking that is sadly absent from their Apple inspiration.
Robin Daunter, technical director of X2 Computing was ready to spread the iLove:
"The iTablet is extremely powerful with a vast array of features and data storage capacity and, what is more, it uses the well-received Microsoft Windows 7 operating system making it a more compelling proposition for users wishing to share data with their existing Windows-based systems and networks."
The iTablet range is due to start shipping in April 2010, and will be available in a range of solid and metallic colours including white, grey, pink, blue, red, yellow and black.
No news on the all important pricing yet – so stay tuned!