Amazon has reached out to Android and given it a little literary cuddle, releasing a free app that gives access to over 600,000 Kindle books on Android phones.
Although it's a fairly basic affair,  the free Kindle app for Android looks a decent enough e-book reader, with users able to select from a plain white, sepia or black reading pane, and adjust brightness and font size/colour to suit.
There's also support for portrait and landscape orientations.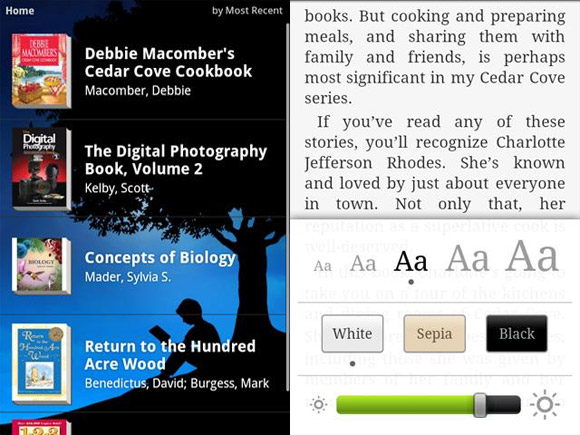 Tap'n'swipe
Navigation is  matter of  tapping in the margins or swiping the sides to flick through pages, while giving the centre of the page a tap will let you see the name of the book, and the percentage you've read so far.
Android users can buy e-books on the move  through Amazon's online Kindle Store, with the option to send yourself the first chapter for free to see if you fancy shelling out for the whole thing.
The app also usefully remembers where you put your bookmarks, and syncs with your Kindle device (if you have one) or any other devices you have running the app.
Unfortunately, Kindle newspapers, magazines and blogs are currently not available on the app.
The 1.7MB app is available for downloading in the  Android Market now, although the availability of books will vary according to region – expect less than the full total in the UK.
Here's Amazon's press release:
SEATTLE—June 28, 2010—Amazon.com, Inc. (NASDAQ: AMZN) today announced that its suite of free Kindle reading apps now includes Kindle for Android. Customers around the world can now download this free application from Android Market and enjoy Amazon's vast selection of Kindle books on their Android-powered devices. The free Kindle apps allow U.S. customers to discover and read over 620,000 books in the Kindle Store – the largest selection of the most popular books that people want to read – including New York Times Bestsellers and New Releases from $9.99.

Like all Kindle apps, Kindle for Android includes Amazon's Whispersync technology, which saves and synchronizes a customer's books and bookmarks across their Kindle, Kindle DX, BlackBerry, iPad, iPhone, iPod touch, Mac, PC, and now Android-powered phones so customers always have their reading material with them and never lose their place. Customers can learn more about Kindle for Android at www.amazon.com/kindleforandroid and can download the free app from Android Market.

"Our customers tell us they love the convenience of having their Kindle library with them everywhere and their reading synchronized across multiple devices," said Dorothy Nicholls, director, Amazon Kindle. "With Kindle for Android, customers can choose from a vast selection of over 620,000 books to read on their Android-powered phone, no matter where they are – on the bus, waiting for a cab, or in between meetings. Kindle for Android and the rest of the free Kindle apps are the perfect companions for readers who don't have their Kindle with them or don't yet own a Kindle."

Android-powered device owners can now take advantage of the features that customers love about Kindle and the Kindle app experience, including:

– Search and browse more than 620,000 books, including 108 of 111 New York Times Bestsellers, plus tens of thousands of the most popular classics for free directly from their Android device. Bestsellers such as "Backlash" by Aaron Allston, "Big Girl" by Danielle Steel, "The Immortal Life of Henrietta Lacks" by Rebecca Skloot, and "The Lost Symbol" by Dan Brown, and hundreds of thousands of other popular books are $9.99 or less in the Kindle Store
– Read the first chapter of books for free before they decide to buy
– Access their library of previously purchased Kindle books stored on Amazon's servers for free
– Synchronize last page read between their Kindle, Kindle DX, iPhone, iPod touch, iPad, PC, Mac, BlackBerry and Android-powered phone
– Customize background color, font color, and font size to help ease eyestrain
– Read in portrait or landscape mode, tap on either side of the screen or flick to turn pages
– Adjust screen brightness from within the app to make reading easier

Several features will be added to Kindle for Android in the near future, including full text search and purchasing of Kindle books from within the app. Customers can learn more about the free Kindle for Android reading app at www.amazon.com/kindleforandroid and can download the app from Android Market.