Like Billy Whizz on a bag of Columbian marching powder, Google's internet browser Chrome has zipped past Apple's Safari for the first time in the US to grab third place in the browser market.
The figures come from stat-spods StatCounter, who reported that Chrome overtook Safari for the week beginning 21 June, 2010.
"This is quite a coup for Google as they have gone from zero to almost 10 per cent of the US market in under two years," gushed Aodhan Cullen, CEO, StatCounter.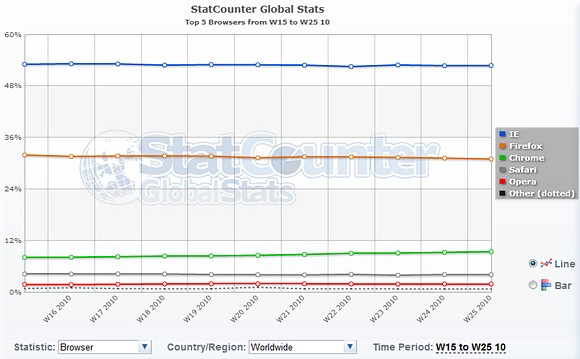 "There is a battle royal going on between Google and Apple in the internet browser space (Chrome v Safari) as well as in the mobile market (Android v iPhone)," he added.
Chrome swerved and shimmied ahead of Safari's 8.89 per cent share with a pwning 8.97 per cent slice.
Microsoft roolz
Impressive though that is, it's still galaxies away from Microsoft's immense 52 per cent chunk of the US Internet browser market, while second place Firefox remains a fair distance behind with a 28.5 per cent share.
Global picture
Although Safari has traditionally been strong in the US, it's a different picture on the global stage, where Chrome showed Safari  a clean pair of heels ages ago.
Google's browser enjoys a 9.4 per cent share of the worldwide market compared to Safari's 4 per cent, while  Microsoft's all-conquering Internet Explorer has bagged a hefty 53 per cent of the global market, followed by Firefox on 31 per cent.
[Via]