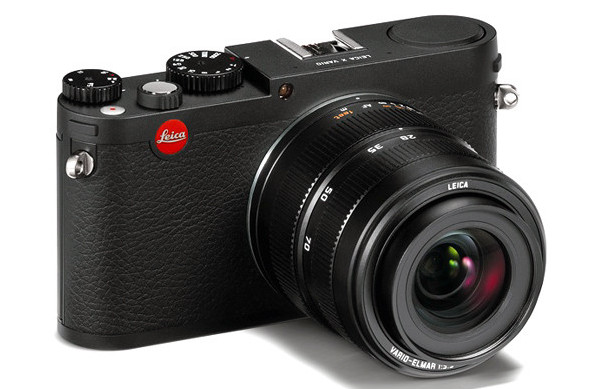 Leica has officially announced its X Vario camera, which it's triumphantly billing as the world's first compact camera with an APS-C sensor and fixed zoom lens.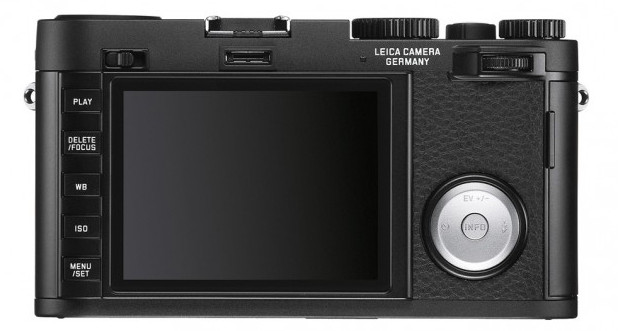 The price tag is  – as you might expect – ludicrously high, with Leica asking for no less than 2,250 of your British pounds to own this thing.
For your pile of money, you get a lovely Leica camera with a Vario Elmar 18-46mm ASPH lens offering a 28-70mm equivalent range and a disappointingly slow 1:3.5-6.4 aperture range. The lens has a manual zoom ring and a manual focus ring.
That slab of glass sits in front of a 16.1MP CMOS sensor, while around the back can be found a 920k dot 3″ LCD.
There's no optical viewfinder, so you'll have to shell out even more wonga for the same optional plug-in EVF as seen on the Leica M Typ 240 and X2 models.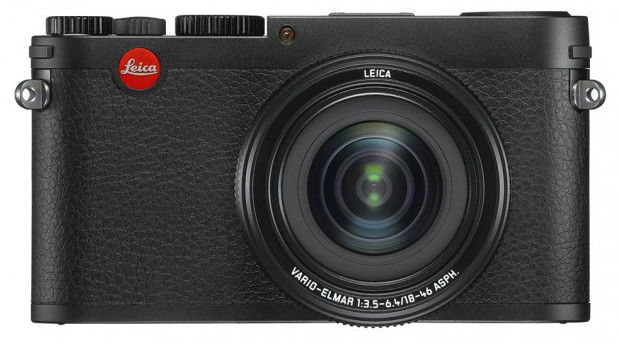 Measuring 2.9 by 5.2 by 3.7 inches and weighing about 1.5 pounds, the camera sports traditional analogue controls for shutter speed, aperture and exposure compensation, with the image sensor having a sensitivity range of ISO 100-12500.
Video capture is supported at 1080p30 quality and there's a hot shoe (with accessory port for the EVF), with aperture  controlled via a top-mounted control dial.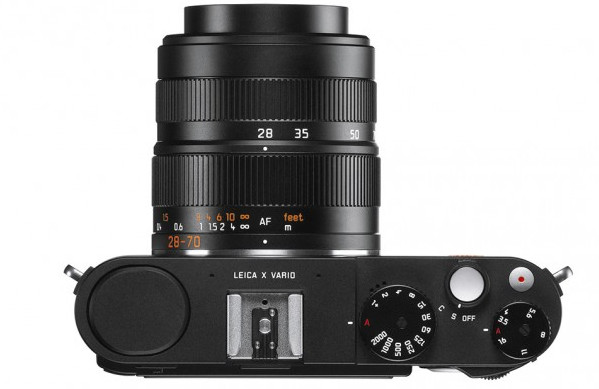 With a price tag nestling in the upper stratosphere, it's no surprise that it's made from premium materials, with the top plate machined from solid aluminium, and the body hewn from from magnesium and aluminium, defly covered in a soft leather trim.
It's a gorgeous camera. But not £2,250 gorgeous.
Here's the press release, which was probably written with a Mont Blanc Ingrid Bergman on gold leaf paper.
Leica X Vario: The Highly Anticipated 'Mini M' Features Characteristics Reminiscent of the Legendary M-System

Solms, Germany, 11 June 2013: Leica Camera AG has unveiled the latest addition to its digital compact camera offerings and presents the Leica X Vario. Made in Leica Camera's headquarters in Germany, the X Vario features a high-performance 16.5-megapixel (effective 16.1), APS-C format, CMOS image sensor, a zoom lens covering a range of focal lengths from 28 to 70 mm (35 mm equivalent) and Full-HD video recording capability. With several design and handling characteristics of the storied M-System, the 'Made in Germany' Leica X Vario offers great versatility and creative freedom.

The X Vario's high performance image sensor is unusually large for a camera in its class. Combined with the Leica Vario Elmar 18-46 mm f/3.5-6.4 ASPH, it sets completely new standards for imaging quality in the compact segment with outstanding exposures in all situations. The Leica X Vario is the world's first compact camera to combine a large, APS-C format, CMOS image sensor with a zoom lens.

From expansive interior shots, landscapes to portrait photography, the range of focal lengths offered by the Leica X Vario opens up entirely new horizons for creative photography. The camera's versatility is further expanded by a new, 1080p Full HD video recording function that allows photographers to record memories at a frame rate of 30 full frames per second. The video data can be saved in MP4 format and uploaded directly to social media or mobile devices without any need for conversion. An integrated wind-noise filter that reduces undesirable noise guarantees crystal-clear sound recording.

The Leica X Vario's wide range of camera setting options combined with its fast and precise autofocus offers even the most demanding photographers maximum creative freedom – for spontaneous shots as well as for carefully arranged compositions.

The Leica X Vario is distinguished by an intensely focused design concept. Its handy form, linear design and the premium materials used in its construction are reminiscent of the Leica M-System. For instance, the top plate is machined from solid aluminium in the same process used for the Leica M. This, in combination with its robust metal construction and premium high-grip leather trim ensures that the X Vario is a classic Leica camera in terms of both look and feel.

Further showcasing Leica M DNA, the X Vario features an intuitive handling concept with clearly laid out functions. The user-friendly operation of the menu interface guarantees rapid access to an impressive range of automatic and versatile manual setting options. Combined with the ease of switching between manual and automatic control, it allows photographers to concentrate completely on composing their subjects and choosing the decisive instant to shoot in any situation. The dials on the top plate provide grip when setting the shutter speed and aperture. Moreover, changing the plane of focus, the white balance, and other imaging parameters allows photographers to consciously influence the look or mood of their images. In Live View mode, the generously sized high-contrast, 3-inch monitor offers photographers complete control at all times and a detailed view– even in bright surroundings.

Accessories

An extensive range of accessories is also available to adapt the Leica X Vario to photographers' particular needs. For example, the Leica EVF 2 Viso-Flex electronic accessory viewfinder with 1.4 megapixels and a 90° swivel function is extremely helpful when shooting from unusual angles. An accessory handgrip makes it easier to shoot one-handed and provides a better grip. As with the Leica M (Typ 240), finger loops in three different sizes (S, M and L) can be attached to the handgrip, helping further ensure safe and steady handling of the camera. An optional lens hood ensures the minimisation of reflections and the Leica SF 24 D flash unit offers greater freedom for subject lighting.

Leica continues to provide a comprehensive range of superbly finished bags, cases and straps that complement the elegance of the X Vario: An ergonomically designed camera protector and an every-ready case in premium black or tan leather; wrist and carrying straps that can be combined with all Leica X and M cameras are also offered in untreated natural leather in black or tan. Whenever the X Vario is used with multiple accessories, photographers can take advantage of the system bag.

Included Software

Adobe® Photoshop® Lightroom®, a professional digital workflow solution for Apple Mac® OS X and Microsoft Windows®, is also included in the Leica X Vario package. This digital image processing software offers a wide range of functions for the management, processing and presentation of digital images. The software is available to X Vario customers as an online download after product registration.

Pricing and Availability

Available now in the UK from authorised Leica dealers including the Leica Store Mayfair, www.leica-storemayfair.co.uk, tel: 020 7629 1351, the Leica X Vario is offered in a black finish. It is also available as a set with the X Vario camera protector and carrying strap in tan leather. The suggested retail price of the Leica X Vario is £2,150 inc. VAT; the set SRP is £2,250.

Individual accessories are priced as follows (SRP including VAT):

EVF 2 Viso-Flex: £380
Lens hood: £90
Handgrip: £100
SF 24 D flash unit: £270
Finger loops for handgrip: £90 in S, M or L
Leather ever-ready case in black or tan: £180
Leather camera protector in black or tan: £90
Carrying strap with protective flap in black or tan: £80
Wrist strap with protective flap in black or tan: £60
The range of optional accessories will be available following the launch of the camera.