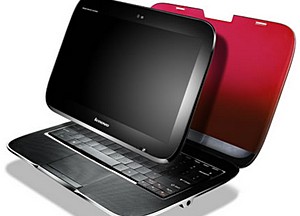 It's still under development and not expected out until the second half of this year, but Lenovo 's U1 Tablet/PC Hybrid has already got us a lot more excited than Apple's frankly underwhelming iPad offering.
Showcased at CES earlier this month, the tablet packs everything you'd need from a fully functioning tablet PC – touchscreen, full multitasking, automatic screen orientation, 3G, Wi-Fi, onboard camera etc, but comes with a very clever  twist: it can clip into a special shell to become a full Windows 7 laptop with a proper keyboard.

When detached from the keyboard, the Lenovo U1 is powered by a Qualcomm ARM Snapdragon processor running a custom version of Linux, offering a good compromise of battery life and usability, but slap it back into its docking keyboard and it transforms into a fully fledged laptop.
Once safely nestled into its case, the Leovo can purr along with an Intel Core 2 Duo SU processor onboard, backed by  4GB of RAM (512MB in slate/tablet mode), two USB 2.0 ports, HDMI connectivity, a memory card reader, and a 1.3-Megapixel web-cam camera.
Current guesstimates put the price around $999 – pricey compared to the iPad, but you'l be getting a whole load more functionality (like multi-tasking for a start, which remains an unforgivable omission from Apple's tablet).
Double the fun
We love the idea of one package offering both tablet portability and 'proper' laptop usability although we'd love to get our hands on the thing to see if it's going to be as good as we think.
Of course what we really want is not Apple's weedy iPad or this two-in-one wonder: what we want is Microsoft's Courier tablet which still looks sensational to our eyes.