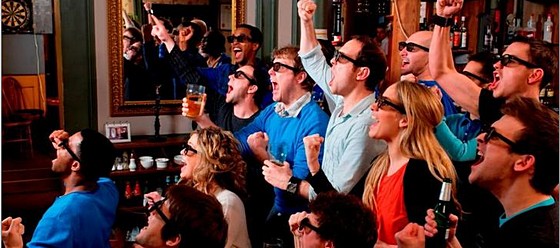 Football fans who like to mix up their three favourite passions: the beautiful game, beer and the pub; are going to be in for a treat this Sunday, with Sky announcing that it'll be broadcasting the world's first 3DTV sports event – an Arsenal vs Man Utd match.
The broadcast is a precursor to Sky's full launch of their  new 3D channel in April, and will be screened in nine pubs across London, Manchester, Cardiff, Edinburgh and Dublin.
The names of the pubs are being kept secret to avoid a beery crush of sensation-seeking lager louts.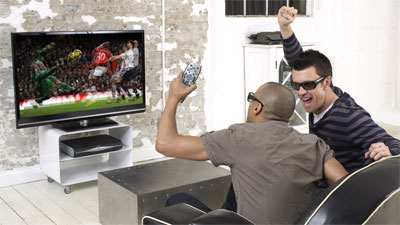 The sporty pub-goers will need to don 3D glasses to experience the full multi-dimensional magic of  Sunday's Arsenal vs Manchester United game, something which may prove interesting after a few jars have been downed.
Sky+HD box owners to get 3D
Although there's not expected to be a huge initial consumer demand for the first wave of 3DTV panels, Sky's 3D service will be available to all Sky+HD box owners later this year.
"Once 3D TVs begin to reach the consumer market later this year, Sky will then make Sky 3D available to all Sky+HD customers, giving millions of people the opportunity to watch a wide range of content in 3D, including movies, sport, documentaries, entertainment, and the arts," commented Sky.
Golfy stuff
Darren Long, Sky Sports director of operations, shrugged off suggestions that 3D sport was a gimmick and explained how the extra dimension gave viewers a greater appreciation of the action:
When you watch a golfer putting in 2D it looks flat – it looks easy. "When you see it in 3D you can see every bump and contour on the green and you really appreciate their skill.
We certainly have precisely zero interest in watching golf on 2D, let alone 3D screens, but put on the mighty Cardiff City FC and we'll be ready and waiting  to take in their full 3D majesty. Oh, yes.