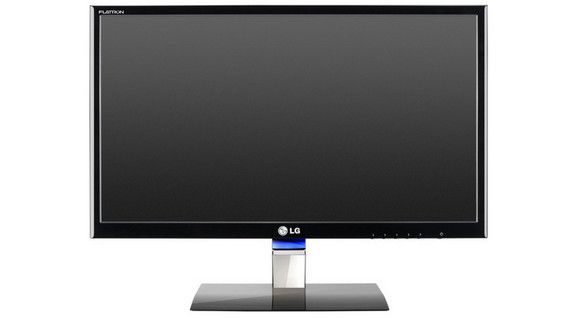 With its extra-slim form factor and stylish looks, LG's E2360V superslim 23″ LCD monitor looks fantastic value for its modest sub-£200 asking price.  We take a look to see if its beauty is only skin deep.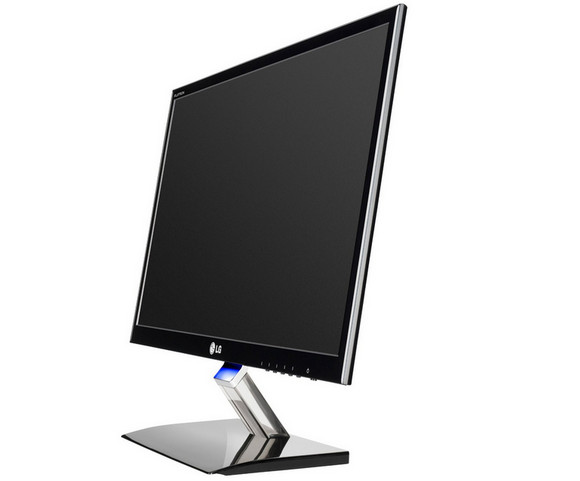 The first thing you'll notice is that the monitor is truly wafer thin – we're talking Mr Creosote wafer mint thin – with its ultra-slim depth of just 12.9m (0.5″) making other LCD monitors in our office look like lard buckets in comparison.
It's rather a stylish affair too, with the 16:9 full 1080p 1920×1080 resolution screen being cantilevered on an illuminated, transparent neck which glows blue when the monitor is on, and red when in standby.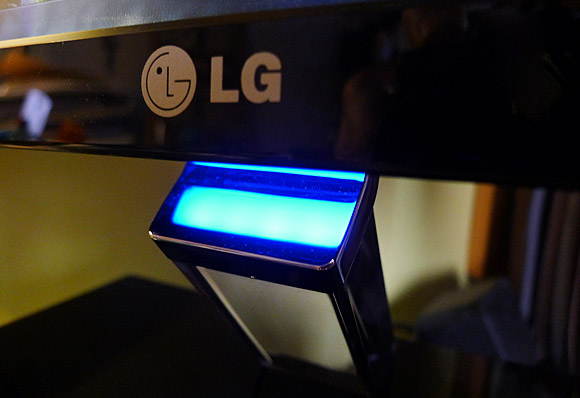 Eco friendly
The monitor also boasts low power consumption, with LG claiming that its 'Eco-friendly LED backlight'  consumes 45% less energy than normal LCD monitors.
Using the monitor
The E2360V boasts a 'Mega Contrast Ratio' of 5,000,000:1, which certainly produced some deep, dark blacks with a 5ms response time proving reasonably snappy in use.
On its default settings, we found the colour to be rather 'cold,' but that was soon sorted out after a bit of tweaking with the settings.
The screen controls were accessed courtesy of a line of buttons underneath the front bezel, and were all pretty much self explanatory.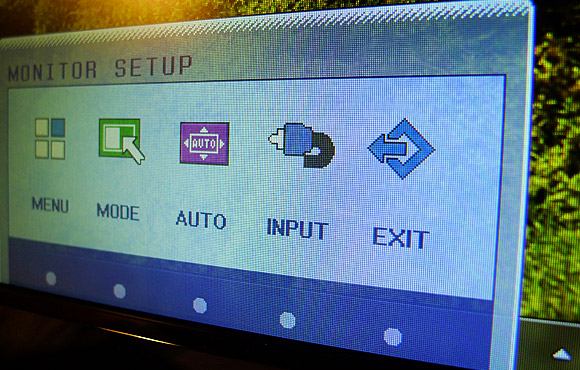 Conclusion
If you're short of desk space or just want to make an impression with a reasonably priced but hugely stylish monitor, the LG E2360V monitor should go straight on your shortlist.
Although the slimness of the monitor is gained at the expense of a separate power supply, it is small enough to hide under the desk, so it shouldn't be a problem for most folks.
The red standby light may also prove a bit distracting if the monitor is being used in a bedroom, but turning the monitor off completely turns off all lights –  and that's a more eco friendly thing to do it anyway (otherwise a bit of black electrical tape will do the trick).
Overall, the LG monitor represents fantastic value – its super slim looks will add a stylish touch to any workstation, and with a three year warranty thrown in, it represents excellent value for money.
Buy it on Amazon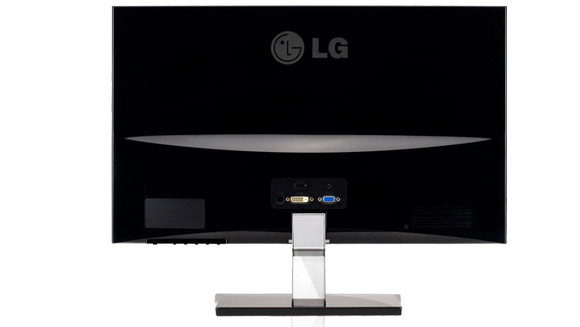 Specs:
LG E2360V-PN – LCD display – TFT – 23″
LCD display / TFT active matrix – WLED backlight
Colour: Black
Diagonal Size: 23″ – widescreen
Dot Pitch / Pixel Pitch: 0.248 mm
Max Resolution: 1920 x 1080
Video Format: 1080p (FullHD)
Display Positions Adjustments: Tilt
Colour Support: 16.7 million colors
Image Aspect Ratio: 16:9
Response Time: 5 ms
Image Brightness: 250 cd/m2
Image Contrast Ratio: 1000:1 / 5000000:1 (dynamic)
Digital Video Standard: Digital Visual Interface (DVI), High-Definition Multimedia Interface (HDMI)
Signal Input: HDMI, DVI-D, VGA
Compliant Standards: FCC Class B certified, CE, UL, TUV GS, cUL, SEMKO
Power: AC 120/230 V
Environmental Standards: ENERGY STAR Qualified
Manufacturer Warranty: 3 years warranty
[LG]