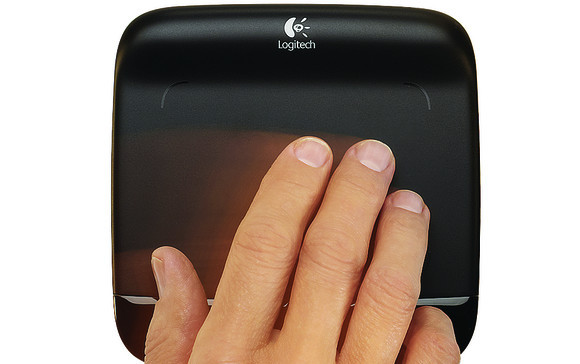 Clearly inspired by the swishy touch-feely controls of Apple's Magic Trackpad, Logitech have thrust their loins forward and expelled their new Wireless Touchpad, a touch and gesture control alternative to the traditional mouse for PC users.
If you've seen Apple's Magic Trackpad, you'll know what to expect, with Logitech's offering using multi-touch input to let you scroll through windows, backed by two-finger up and down and three-finger forward and back swipe movements.
"The Logitech Wireless Touchpad is perfect for people who want to surf the Web in a more fun and natural way," insisted Rory Dooley, Logitech's senior vice president.
"It lets Web surfers flick through websites and effortlessly scan long pages – making browsing easier than ever," he added, chirpily.
The Wireless Touchpad uses a wireless 2.4GHz channel to connect to the desktop via a discreet wireless USB dongle and should be swiping into UK stores later this month for £44.99.
Here's the press stuff:
New Logitech Wireless Touchpad Lets You Point, Scroll and Swipe with Ease
Multi-Touch PC Device Makes it Easy to Go Wherever You Want on the Web

FREMONT, Calif., Sep 13, 2011 (BUSINESS WIRE) — Today Logitech (six:LOGN) LOGI -0.42% unveiled the Logitech(R) Wireless Touchpad, making it easy to point, scroll and swipe your way to wherever you go on the Web — and beyond.

With multi-touch navigation and intuitive, gesture-based controls, the Logitech(R) Wireless Touchpad lets you navigate your computer naturally. The large touch surface gives you plenty of room to let your fingertips do the clicking. And since there are no cords, there's no clutter and no hassles. Just put the touchpad anywhere on your desk or tabletop, insert the plug-and-forget Logitech(R) Unifying receiver into your computer's USB port and let the fun begin. Plus, the receiver stays in your computer and enables you to easily connect up to five other compatible devices.

"The Logitech Wireless Touchpad is perfect for people who want to surf the Web in a more fun and natural way," said Rory Dooley, Logitech's senior vice president and general manager of the Control Devices business unit. "It lets Web surfers flick through websites and effortlessly scan long pages — making browsing easier than ever."

The Logitech(R) Wireless Touchpad's multi-touch navigation offers up to four-finger gestures and swipes to scroll pages, jump tabs and switch applications. Advanced 2.4 GHz wireless virtually eliminates delays, dropouts and interference. And you can easily stay powered up — with up to four months of battery life and an LED indicator light that tells you when the touchpad is on and your batteries are running low.

Pricing and Availability

The Logitech Wireless Touchpad is expected to be available in the U.S. and Europe beginning in September 2011, for a suggested retail price of $49.99. For more information please visit our blog or www.logitech.com