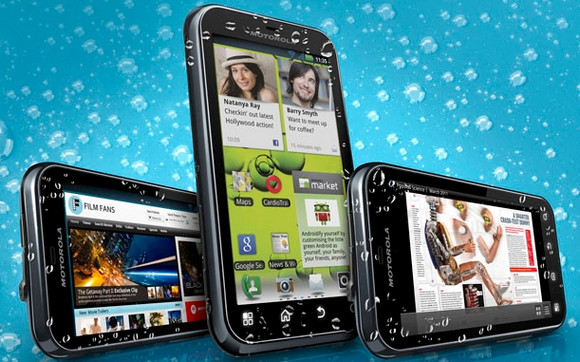 Expected to come rampaging out into the open this autumn is the beefy, Android-powered Motorola Defy+ handset, sporting a rugged, upgraded design and an all-weather attitude.
Kicks sand in the face of iPhones
Water-resistant, scratch-resistant and dust-proof, this is a phone that should keep on going when other hoity toity designer phones hit the dust, with its toughened screen, sturdy frame and sealed rubberised ports making it a real carry-anywhere handset.
The Defy+ comes with a generous 3.7-inch touchscreen, protected by the extra-tough Corning Gorilla Glass,  plus a 1700 mAh battery promising 7.1 hours of talk time and 17 days of standby time.
Measuring 107 x 59 x 13.4mm and 118 grams, there's support for Adobe Flash Player 10,  and built-in FM radio, WiFi, GPS, electronic compass and 3.5G support.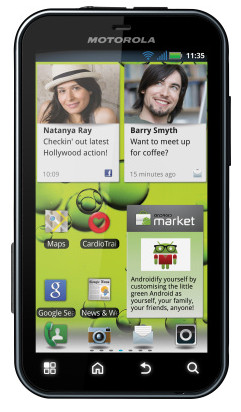 Faster CPU
Like the original Defy, there's  a 5-megapixel camera onboard, and the same 2GB of onboard memory (expandable to 32GB ), although Motorola say the Defy+ is 25 per cent faster thanks to an upgraded 1GHz processor replacing the original 800MHz CPU.
Loaded with the Android 2.3 (Gingerbread) OS, the handset comes with Motorola's customised  Motoblur interface, letting users customise their home screen and add groovy social networking widgets.
With Google's recent £7.6bn aqcuisition of Motorola Mobility, we wonder if there'll be much of a future for Motoblur – we can't say we'd cry manly tears if it were to be banished from the earth.
A UK release date is yet to be confirmed, but word is that the Defy+ will emerge, bare chested and ready to take on the world sometime in the early autumn.
Pricing looks to be somewhere around the €400 mark.