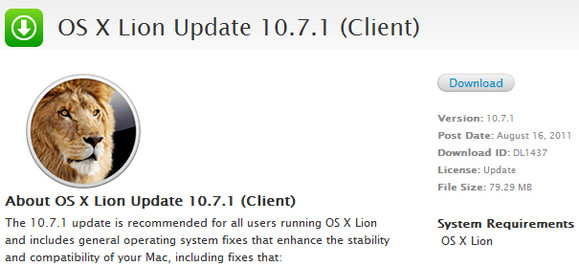 Apple has slipped out the first update for its new Mac OS X Lion operating system, with the updated 10.7.1 software serving up a selection of big fixes, as well as improving stability.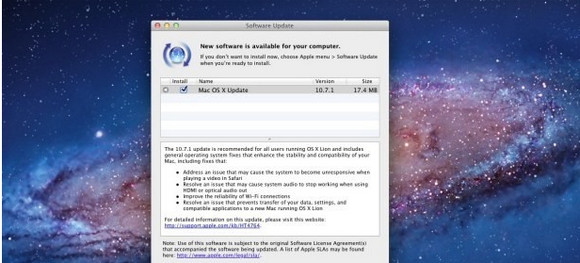 The new update is available to all Lion users and comes in several flavours, with a standard update for both the Mac OS X Lion client and server, an update for the 2011 version of the MacBook Air and Mac mini client, plus one for the Mac mini server..
The 10.7.1 update can be installed by selecting Apple > Software Update, or by downloading it from the links above.
The download weighs in at a modest 17.4MB and should fix a number of issues that have been plaguing users since the release of Mac OS X Lion, as Apple explain:
The 10.7.1 update is recommended for all users running OS X Lion and includes general operating system fixes that enhance the stability and compatibility of your Mac.
Included in those fixes is a particularly annoying issue that has been causing the entire system to freeze  when playing a video in Safari, as well as reported problems with the system audio knackering up when using HDMI or optical audio-out ports.
Other fixes include sorting out a problem that prevented the transfer of a user's data, settings and compatible applications to a new Mac running OS X Lion.