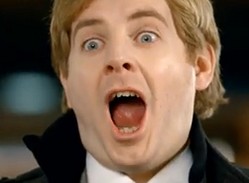 Microsoft's onslaught to persuade us Brits to try out a different flavour of search to Google has kicked off, with the first TV commercial for Bing hitting goggleboxes across Blighty.
The advert – the first of the three – can be seen across a slew of commercial channels such as ITV, Channel 4, Five, Sky Media plus IDS digital channels including Bravo, Dave, GOLD, Living TV and Good Food.
Shot in Canary Wharf tube station, this first offering is rather an unsettling affair, with a frankly bonkers set of people responding in such a bizarre way to a request for tube directions that the caption, "What has the information overload done to us?" appears.
Boasting the strapline, "Bing and Decide," the advert hopes that surfers will be tempted to give Microsoft's new "decision engine" a go.
We found the advert irritating, but take a look for yourself and see what you think:
[Bing]