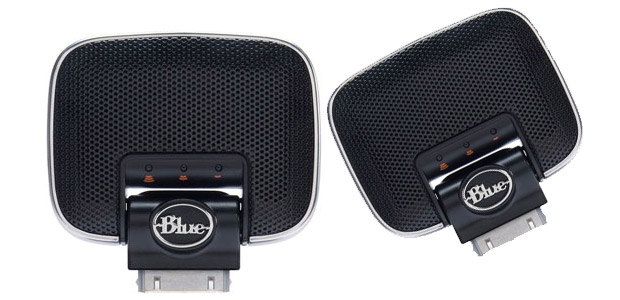 Blue Microphone have released another upmarket mobile recording tool in the shape of the Mikey Digital stereo mics.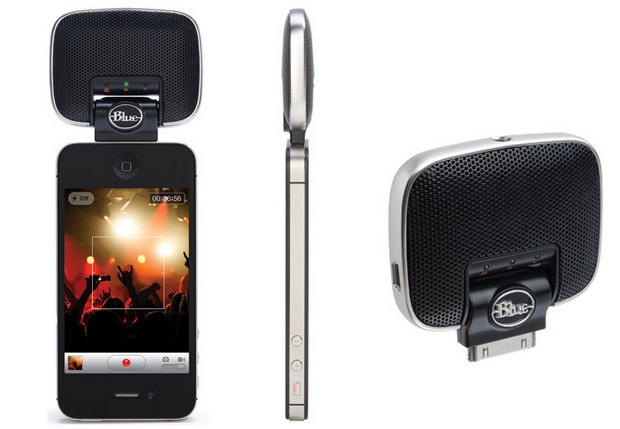 Designed for the iPad and iPhone, this revamped version of the original Mikey, err, mic, hooks up to its host Apple products via a dock connector (so you end up using your phone upside down).
The 230-degree rotating housing packs in two condenser capsules and offers built-in sensitivity control and CD-quality analog / digital conversion.
There's also a 3.5mm audio jack for monitoring either stereo line-in or mic-in and USB pass-thru allows for charging while recording.
Mikey's three gain settings lets users record "everything from a loud concert to a whisper," while a LED clipping indicator warns of eardrum shattering Motorhead volume levels.
The Mikey Digital retails for $99.99, and shoul dbe available in the US now, with the rest of the known universe following this month.
Here's the PR stuff:
Blue Microphones Now Shipping Mikey Digital, Portable Microphone for iPhone, iPad

Professional plug-and-play microphone that captures CD-quality audio for video, voice or music anytime, anywhere

(Westlake Village, CA – August 31, 2012) – Blue Microphones (www.bluemic.com), a leading innovator in microphone technology and design, announces the availability of Mikey Digital, a plug-and-play stereo microphone that directly connects to iPhone and iPad and is instantly recognized for use with any audio or video application. Whether catching a concert, shooting video, or recording guitar, Mikey Digital captures truly professional recordings on-the-go with two of Blue's premium condenser capsules and built-in sensitivity control. Mikey Digital also features a multi-source input jack that allows for direct connection of guitars and other sound sources to record with the highest possible fidelity. Mikey Digital, MSRP $99.99, will be available August 31st at Amazon.

"Mikey Digital is the highest quality and most versatile solution for recording audio on-the-go with your iPhone or iPad," said John Maier, CEO of Blue Microphones. "Mikey Digital features the same capsules used in our award-winning Snowball and Yeti USB microphones, delivering the rich, detailed audio that Blue is known for. With its input jack, Mikey Digital transforms from a mic into a direct interface for recording guitar, connecting a lavaliere mic or capturing line level audio straight to your iOS device."

Now featuring both Automatic and Manual gain settings, users can enable Mikey Digital to intelligently adjust to fluctuating volume levels or manually set low sensitivity for extremely loud sources and high sensitivity for quieter sources. Mikey Digital is equipped with an LED clipping indicator that flashes whenever volume levels are producing distortion, providing immediate feedback to adjust sensitivity for best recording results. Mikey Digital also rotates 230 degrees for optimal positioning or to align with the front- or rear- facing camera to capture enhanced audio for your iPhone or iPad video.

Mikey Digital includes a guitar adapter for connecting instruments such as guitar and bass to the multi-source 3.5mm input jack, which also accepts stereo line-in and mic-in. Whether recording through the premium capsules or multi-source jack, Mikey Digital records the highest fidelity possible on the iOS platform using Blue's built-in, high-quality mic preamp and a CD-quality A/D converter.

Mikey Digital also features a USB pass-thru connection for charging your device while in-use for continuous recording without draining battery life. Further, Mikey Digital incorporates an advanced microprocessor allowing for upgradeability and future control through iOS applications. Mikey Digital is Apple certified for iPhone 4s, iPhone 4, iPad (3rd generation), iPad 2 and iPad.

Mikey Digital, MSRP $99.99, will be available at Amazon and B&H [Sweetwater] on August 31st and arriving at other consumer electronics and pro audio retailers worldwide in September. For more information about Mikey Digital visit www.bluemic.com/mikeydigital.