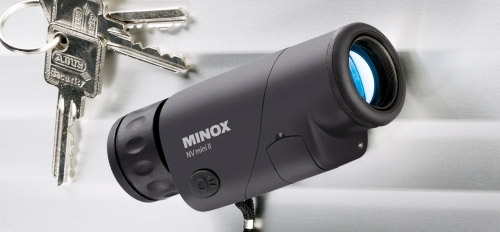 Sneakier than a slithery snake crawling around in a fake beard and dark gasses, the Minox NV mini II night vision devices is a dream for stalkers, security guards, doggers and other people who like to watch things that go bump in the night.
Billed as  'one of the smallest night vision gadgets in the world', the Minox NV mini II works by amplifying the available residual light  (like light frequencies from the brightness of stars or horizon radiation unseen by human peepers) to give users carrot-boosted nocturnal vision.
If there's not enough available light for providing a visible image, the MINOX NV uses a built in infrared illuminator, enabling some vision in complete darkness.
It's a wee little fella too – barely bigger than a lipstick – with ultra-compact dimensions of just 33 x 41 x 107 mm and a weight of just 180 g.
The multicoated lens offers 2 x magnification, and the partial rubber armouring should keep the gadget safe as you silently shuffle around Nosferatu's gaff.
The Minox NV mini II comes complete with a battery and a wrist strap should be available at the end of this month. Pricing is yet to be announced.