If you're stuck in your office and fed up looking out at the car park, then why not take a virtual trip along the great Trans Siberian Railway?
Thanks to some clever Googlery, you can ride the whole length of the line from Moscow to Vladivostok and watch the countryside roll by as the train embarks on its titanic journey across two continents, 12 regions and 87 cities.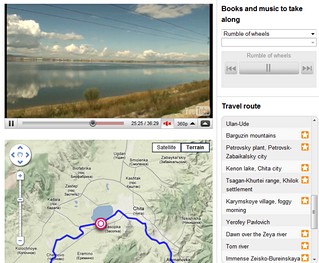 Click to goski.
Below the video is a map showing your location on the map, and if you decide the suburbs of Kemeshkovo are getting a bit boring, you can click anywhere along the line to view a different part of the trip, or choose from a selection of highlights.
There's a choice of soundtracks available to add to the authentic Trans Siberian experience, and you can listen to the rumble of wheels, Russian radio (Russkoye radio) or enjoy Russian classic literature like Leo Tolstoy's "War and Peace", Nikolai Gogol's "Dead Souls" or Ilya Ilf, Evgeny Petrov's "The Golden Calf."
The project, a joint effort between Google and the Russian Railways, is a real treat –  and we love it!
Right. We're off to see dawn over the Zeya River.