Microsoft has put the price stickers on its new Office 2010 suite, and has included a Starter version that will come free with new PCs.
The new Microsoft Office Home and Business 2010 package will be all yours to love and to caress for £239.99, representing a substantial saving on the previous Standard version of Office 2007, which sold for a hefty £349.99.
The new Home and Business 2010 package bundles in the OneNote note-taking program and Office Web Apps, so there's extra software on top of the price cut. Way to go Microsoft!
Product Key Card
If you're happy to forego the packaging and physical DVDs, Microsoft will be delighted to sell you what it calls Product Key Card versions of Office.
Used to activate downloaded or pre-installed copies of Office 2010, the key card knocks the price of Office Home and Business 2010 to £189.99, while the bells'n'whistles Office Professional flagship version gets banged down from £399.99 to £299.99.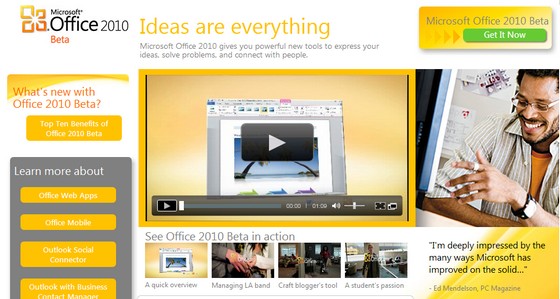 As usual, there'll be a Office Home and Student version available (also bundled with OneNote and Office Web Apps), and this will set you back £109.99 for a boxed copy and £89.99 for the keycard version, with up to three separate PC installs allowed – fun for all the family!
There'll also be a freebie version of Office 2010 – basically a replacement for Microsoft Works with some cut down functionality – and this will come pre-installed on a new PCs sold by selected PC manufacturers.
What's in the box?
Office Home and Student comes with Word 2010, Excel 2010, PowerPoint 2010, OneNote 2010, and Office Web Apps. Office Home and Business 2010 packs all that lot in and lobs in Outlook 2010, while Office Professional shoves in Publisher 2010, Access 2010, and "premium technical support".