Woot! Don your white gloves, get your glow sticks out and show us your 'big box, little box' dance routine in time to Motorola's banging promo video for the 'MotoBlur' interface in its new Motorola DEXT/CLIQ handset.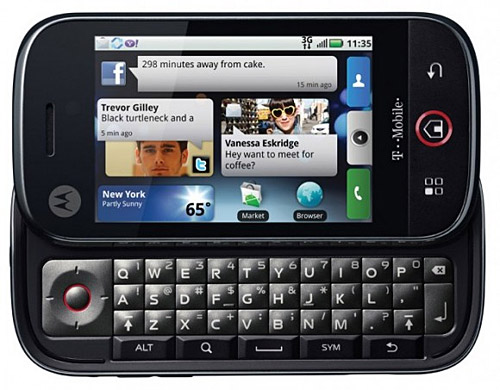 The 'avin' it video shows off the Motorola's MotoBlur technology, which functions as an eye candy interface and as an integrated service, connecting e-mail, calendering services, Facebook, Twitter and MySpace on the Android powered device.
This lets you update your status to your social networks at one deft move, or you can access all your messages, e-mail, text, social network messages in one view – it's a bit like a supercharged version of Palm's Synergy interface on the webOS.
With home screen widgets pushing email and social networking site updates, you can keep up with what's going down with your homies on one screen, and can snappily fire off witty bon mots in response without having to fire up dedicated apps.
Anyway, enough of our yacking, here's the video so you can see it for yourself:
So, what do you think? Are you blown away by the sheer force of widgetry on on offer, or does it have a slight whiff of Eau d'Gimmick?
The handset will be landing in the UK next month on Orange – visit Motorola's Flash-tastic MotoBlur site for a closer look.