You could  never accuse Motorola of downplaying their forthcoming tablet, with a new promo video lining it up against ancient hieroglyphic scripts, the Ten Commandments, the Rosetta Stone, Mayan engraved tablets and the Apple iPad.
The stone work of ancient civilisations is dismissed as being too heavy, inflexible or being of 'low resolution,'  while Apple's phenomenally successful iPad is shrugged off as being nothing more than a "giant iPhone."
If Steve Jobs wasn't so busy raking in the cash, I'm sure he might possibly care what Motorola thinks about that, but it wasn't just iOS machines coming in for criticism.
The Samsung Galaxy Tab also found itself on the receiving end of Motorola's scathing critiques, with the popular 7″ tablet dismissed for running, "Android OS, but Android OS…for a phone."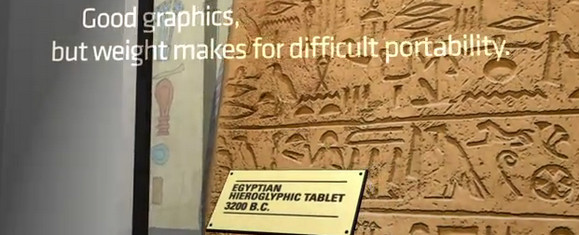 The video eventually tracks to a Motorola-branded podium where their own tablet is kept under wraps, while a bee buzzes over to the company's logo.
Presumably this is a reference to the upcoming Google Honeycomb OS, which is being designed specifically for touch screen tablets.
All will be revealed…
Motorola is set to reveal all at CES, the world's largest consumer technology tradeshow, in Las Vegas on Jan 6-9th, 2011.
Whatever they eventually release, you can bet that it won't last as long as the ancient texts they criticise in their video…