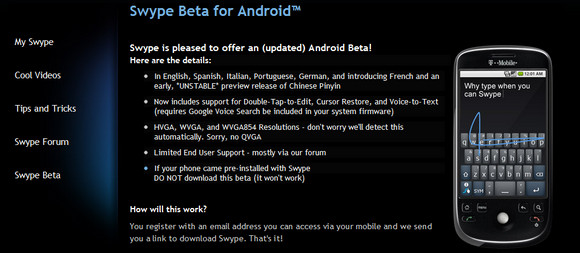 We've been huge fans of Swype's revolutionary text input system, but until now only those who registered early for the beta trials were able to bag themselves a copy.
All that has changed, with Swype now inviting Android users to head over to their site in double quick time, register for the beta, and then be rewarded with a download link.
Best virtual keyboard
Easily the best way to type on an Android screen – and any other phone, come to think of it – Swype lets you bang out words a-plenty with one continuous finger motion rather than pecking away at a tiny onscreen keyboard.
That said, it's still worth reading their FAQ before you start getting all smudgy with your phone's screen as it takes a little getting used to before you get the hang of it.
We definitely recommend giving it a go – register here.
Here the details of the latest beta:
Now includes support for Double-Tap-to-Edit, Cursor Restore, and Voice-to-Text (requires Google Voice Search be included in your system firmware)
HVGA, WVGA, and WVGA854 Resolutions – don't worry we'll detect this automatically. Sorry, no QVGA
Limited End User Support – mostly via our forum
If your phone came pre-installed with Swype
DO NOT download this beta (it won't work)
[Swype]
[Via]