Nikon have announced their new high end compact, the Coolpix P7000, and are ready to send it out to do battle with the likes of the Canon Powershot S95, Canon G11 and Lumix LX5.
Replacing the venerable  P6000, the new enthusiast compact seems to be taking its styling cues from Canon's G11, and similarly comes festooned with with chunky dials and buttons slapped on a rather inelegant stepped design.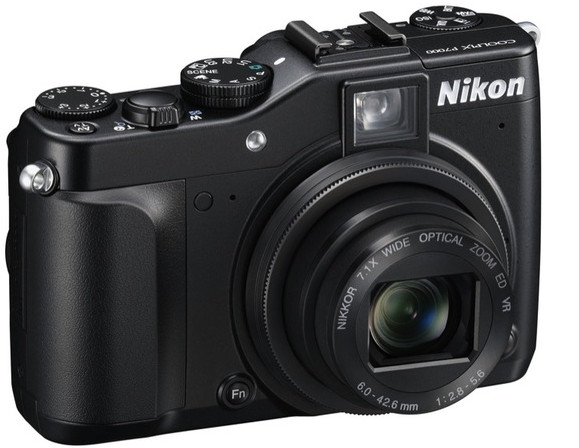 Ten megapixels of Nikon goodness
Thankfully, the daft megapixel arms race seems to be over for now, with the  tough-looking P7000 packing a  sensibly modest 10 megapixel CCD backed by Nikon's EXPEED C2 processor.
Beefy zoom
There's an impressive zoom slapped in the front of the Nikon, with the 7.1x Nikkor lens serving up a 28-200mm (35mm equiv) range, with a maximum aperture of F/2.8 at the widest angle ( f5.6 at t'other end), plus image stabilisation to keep things crispier than a fresh bag o'Walkers.
We would have preferred a wider 24mm wide angle zoom, but a 28-200mm should provide a versatile range for everyday duties.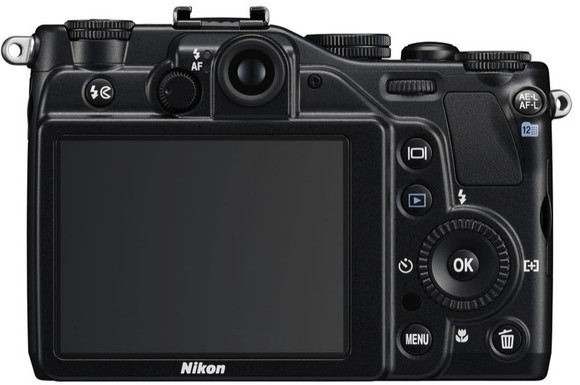 A  high-resolution, non-articulated  3-inch 920k-dot display sits on the back, and there's also a tiny optical viewfinder for framing pics.
In line with the P700's upmarket aspirations, there's a  hot shoe, built-in pop-up flash, full auto/scene/manual shooting modes and RAW shooting, with the ISO range hurtling upwards from 100 up to a standard 3200 ISO, with 6400 (Hi 1) a grainy option.
Fighting for space on the top dial is three dSLR-style dials for quickly accessing functions, setting the shooting mode and altering exposure compensation. We like the look of these very much indeed.
Like the G11, you'd need to be wearing a pair of Fatty Arbuckle's pants to slip this camera into your pocket, with the P7000 measuring up at 114.2 x 77.0 x 44.8 mm and weighing 310g (10.9 oz.) .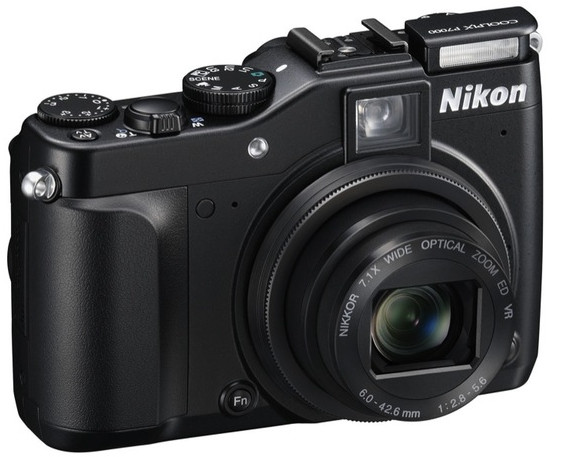 Disappointingly, video capture can only muster up 720p HD (1280×720), but there is a built in stereo mic and jack for plugging in an optional external mic, with a HDMI slot for hooking up your big tele at home.
Set to stampede into the shops on 23rd September 2010, the new Nikon Coolpix P7000 comes with a suitably high end price tag of £489.99.
It may not be the most elegant design we've ever seen, but there is something rather tempting about its beefy, rough'n'tough looks, and all those external controls will surely be feeling the love from photographers looking for a versatile and high quality back-up for their dSLR cameras.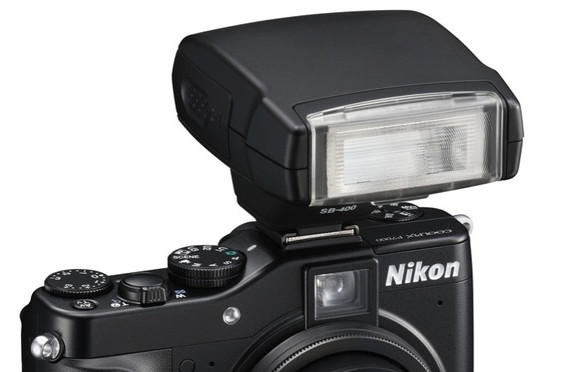 Nikon press release
Nikon UK, 8 September 2010 – Nikon Europe today announces the launch of a high performance COOLPIX model, the P7000, that sets a new benchmark for quality photography in a discrete and stylish package. The result of extensive research amongst professional photographers, the COOLPIX P7000 delivers outstanding images in a less intimidating form factor than a SLR.

The P7000's superb image quality is guaranteed by a wide-angle 7.1x zoom NIKKOR lens giving a 28mm to 200mm range (35mm format equivalent), with optical Vibration Reduction (VR), two ED glass elements and Nikon's brand new EXPEED C2 image processing system. The large 10.1 effective megapixel 1/1.7" CCD sensor facilitates wide dynamic range and exceptional low light performance whilst the 7.5cm (3.0") high resolution LCD (920K dot) monitor assists composition, movie making and playback in brilliant detail.

Mark Pekelharing, Product Manager, Consumer Products at Nikon Europe B.V., says: "The COOLPIX P7000 boasts a raft of advanced features and ergonomics found in SLR cameras, making it the ultimate compact option for advanced SLR users and professional photographers who want high quality images in a discrete and responsive body." He added, "Our professional customers have really helped to drive decisions about the feature set, and the results speak for themselves; great quality photography…anywhere".

Only the best images
The P7000 is packed with cutting-edge technology to ensure the best image quality available, with a large 1/1.7" sensor and EXPEED C2 image processing system to provide enhanced low light performance and movie recording. Its 7.1x zoom NIKKOR lens has two ED glass elements to reduce chromatic aberration and fringing at longer focal lengths. What is more, it also includes a built-in ND filter to expand exposure.

The P7000's wide sensitivity range of ISO 100 to 3200 is expandable to Hi 1 (ISO 6400 equivalent), while low noise night mode ensures fine results in extremely low light conditions, such as in candlelit interiors and a Noise Reduction (NR) adjustment function enables photographers to manage the impact of noise in their images.

For situations where choosing the right setting proves difficult, D-Lighting automatically ensures images look natural, rescuing underexposed shadows caused by very high contrast lighting conditions. COOLPIX in-camera Picture Controls, based on the technology from Nikon's award winning digital SLRs, allow the user to manage camera processing according to personal taste while the new bracketing functions enable the photographer to take sequences with slightly different settings, varying exposure, ISO sensitivity, or white balance, and select the one that best suits the intended effect. A newly-added Virtual Horizon can also be displayed in the LCD to make sure the camera position is perfectly aligned.

Enhanced recording and playback
Some occasions call for capturing more than a picture, so the COOLPIX P7000 comes with an HD movie recording (720p) function. Stereo sound can be simultaneously recorded using a built-in microphone, while the microphone jack enables the use of an external microphone. The extra large 7.5cm (3.0") ultra-high resolution (920K dot) LCD display offers almost 100% sRGB colour space to make image reviewing a pleasure and the optical viewfinder features diopter adjustment. In addition to this, the HDMI port enables instant sharing on external HD displays.

The P7000's in-camera editing allows users to take control over their pictures. Tone level information is displayed on a histogram, and exposure compensation, aperture, shutter speed and ISO sensitivity can be minutely adjusted while confirming highlights, shadows and intermediate tone.

For those who prefer to revise their images on a PC or Mac, images can be stored in the enhanced NRW+ (COOLPIX RAW) format, providing an uncompressed digital "negative" which enables advanced editing. NRW+ files are compatible with Nikon's bundled ViewNX 2 software as well as the optional image editing software Capture NX2.

Easy operation, everywhere
The P7000 has been designed for those who wish to have complete control over their photography with the familiar intuitive layout of buttons and dials found on Nikon DSLR cameras such as Command dial and AE-L/AF-L buttons. The P7000 also features an 'analogue retro' dial to manage exposure compensation levels in 1/3 EV steps. Manual control over other commonly used functions is accessible via the Quick Menu dial. A User-Setting Function enables users to switch zoom position to a preset focal length, as if using interchangeable lenses. The settings at each zoom position can also be customised according to the user's intention. Alongside this, the added Zoom Memory function allows one-touch switching to any focal length setting, using a new manual mode dial.

The compact system camera
The COOLPIX P7000 forms the core of a mini-system and is i-TTL compatible with Nikon's acclaimed Speedlights, a new WC-75A wide-angle convertor for a 21mm equivalent field of view and infra-red remote control ML-L3.  The P7000 also comes complete with ViewNX 2 software, long life battery MH-24 and charger EN-EL14. The camera can be further expanded using an external microphone (not available from Nikon). To protect the camera, an optional carry case is also available (CS-P06).

EXPEED C2
The original EXPEED image processing system incorporated all of the accumulated expertise and technologies developed throughout Nikon's long history. Now the latest evolution of Nikon's renowned system, EXPEED C2, expands the possibilities of photography even further, with enhanced movie recording, high-sensitivity performance and maximum image quality. EXPEED C2 maximizes sensor performance for clear, lifelike images that exhibit vivid colors, reduced noise and smooth tonal gradations for outstanding photos and movies.

ViewNX 2
ViewNX 2 is an all-in-one software package that enables users to quickly import, browse, edit and share still images and movies. Building upon the highly successful ViewNX software, ViewNX 2 is a user-friendly suite that offers a huge range of features, going well beyond those supplied as part of a PC's operating system. Newly-incorporated advanced movie-editing functions have been taken directly from Nikon's award-winning DSLR range, enabling users to trim clips and blend still images into stunning movie footage. ViewNX 2 comes with all Nikon digital cameras and is also available as a free download.

Nikon my Picturetown
You can now back-up your images safely and securely using my Picturetown, the free online digital photo storage and sharing service brought to you by Nikon. Easily share photo memories with friends and organise precious memories into online collections. You get 2GB of space free to use for storing thousands of memories and you can upgrade your membership to Gold Account at any time if you need to store more pictures.