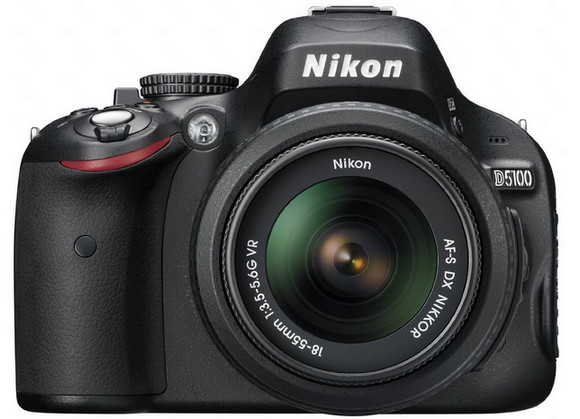 It's a well engineered, well specified camera that's been seriously tempting our wallets recently, and after a brief hands on, we're still feeling the love for Nikon's high performance D5100 dSLR.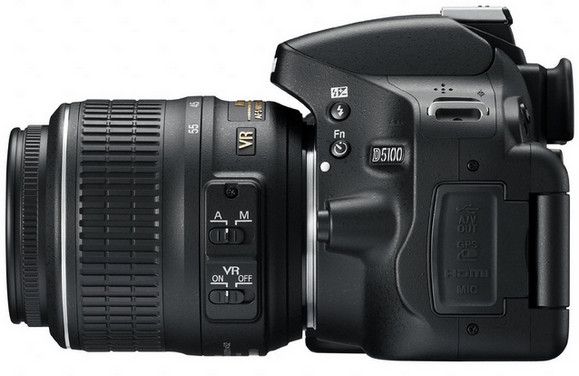 High end features
Sitting above the company's fantastic budget offering, the Nikon D3100, and below the rather awesome high end D7000, the Nikon D5100 packs in some very impressive features for its £630 price tag.
Despite being considerably cheaper than the £900 D7000, the D5100 offers the same 16.2-million-pixel CMOS sensor and EXPEED 2 processor, with raw images from both cameras being saved as 14-bit files.
There are some changes reflecting the price differential though, with the D5100's white balance and metering systems using information from a 420-pixel RGB sensor (compared to the D7000's 2,016 pixel RGB device) and its autofocus (AF) system having just 11 points compared to its bigger brother's 39-points.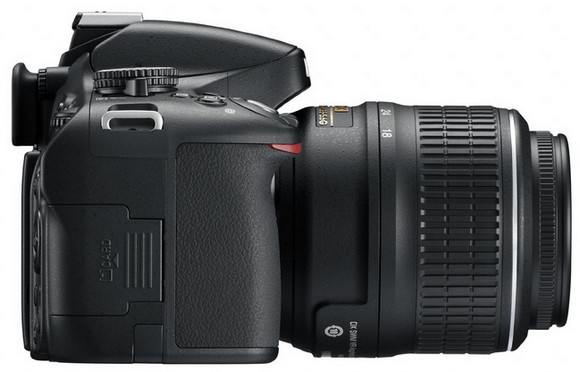 Rattles 'em off fast
With shutter speeds set to 1/250sec or faster and shooting in manual exposure or shutter priority mode, the D5100 can rattle off images at a maximum rate of 4fps for around 100 highest quality JPEGs or 20 raw images or 12 simultaneous raw and JPEG files (using a class 6 SD card).
That's not quite as fast as the 6fps shooting offered by the D7000, but still pretty damn impressive for a non-pro camera.
Big ISO range
The D5100's native sensitivity runs from ISO 100 to 6400, with four expansion settings taking the ISO rating to the stratospheric equivalent of ISO 25,600 (Hi 2), as well as a Night Vision Special Effect mode, which stretches the sensitivity to a mind-boggling ISO 102,400.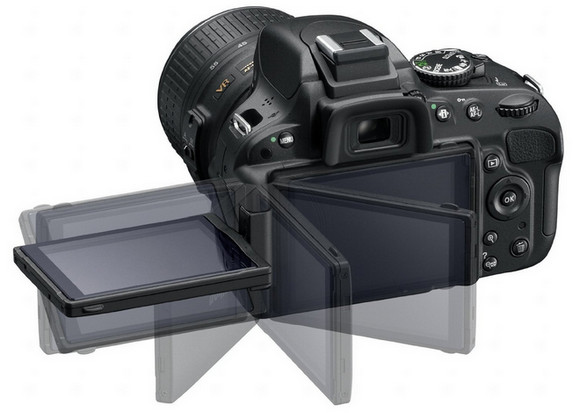 Articulated screen
What may attract some users to the D5100 instead of the D7000 is the cheaper camera's articulated screen, which is now hinged on the left, making it easy to use when mounted on a tripod. The screen's had a substantial upgrade too, and is now 3″ in size, supporting 920,000 dots.
As well as Nikon's tried and trusted Active D-Lighting (ADL) dynamic range optimisation system, the D5100 comes with a HDR (high dynamic range) mode, multiple exposure capability, and a ton of special effects like Night Vision, Colour Sketch, Miniature, Selective Color, Silhouette, High Key and Low Key.
Naturally, there's Live View onboard as well as full HD (1080p) video capture, making this a very versatile offering, aimed at both adventurous novices and seasoned pros looking for a well spec'd second camera.
We're very much liking the look of the fella and if our budget can't reach out to a D7000, we're pretty certain that it'll be in our camera bag soon.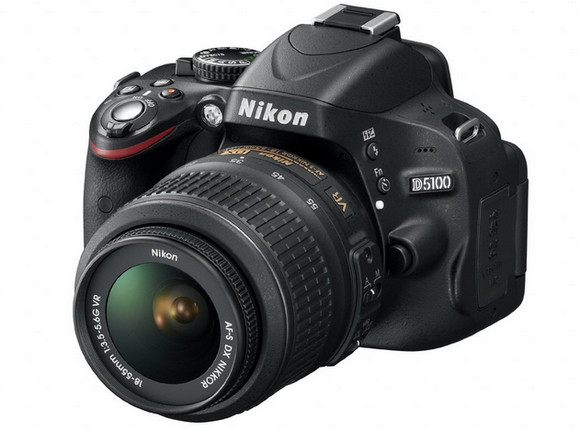 Reviews
The reviews so far seem to be sharing our enthusiasm too, with the Photography Blog lauding a 'Highly Recommended' accolade, commenting, "the Nikon D5100 successfully bridges the gap between the beginner-friendly approach of the D3100 and the more complex D7000, with the latter's fantastic 16 megapixel sensor being the icing on the proverbial cake."
Although the reviewer couldn't get on with positioning of the Live View switch and the secondary controls on the rear,  the D5100 was complimented for delivering, "excellent still and moving pictures with the minimum of fuss in a lightweight package and is a serious rival to the Canon EOS 600D and the Sony A55."
The review concludes:
Ultimately the Nikon D5100 easily overcomes its few real weak points, offering a compelling mix of great image and movie quality, precise and quick auto-focusing, accurate metering and a fantastic LCD screen, all in a format that most users will find intutive and enjoyable to use. This is precisely what a DSLR that's competitively priced for the mass-market should deliver, and judged on that criteria, the Nikon D5100 is a very worthy winner of our Highly Recommended award.
TechRadar also felt the D5101 love, declaring it to be a 'great choice' for both novice photographers and more experienced photographers.
The reviewer warmed to the high resolution articulated screen, and summed up the camera as offering "a lot of versatility, opportunity for creativity and quality results."
The big boys at DPreview weren't quite as impressed, dishing out a Silver Award while describing the D5100 as one of the most compelling products in its class, serving up, "an excellent mixture of straightforward handling, a well-targeted feature set, and excellent video and still image quality. "
The camera was marked down for the arrangement of the D5100's second-tier controls and overall ergonomics, and ended their review with this comment:
Judged on its own merits though, the D5100 does its job very well indeed. A novice-friendly feature set and (relatively) wallet-friendly asking price belie an extremely capable sensor and AF system. We are left with a lingering worry, though, that the D5100's entry-level ergonomics might not prove quite so adaptable to the evolving needs of a first-time DSLR buyer as a camera like the Canon EOS 600D/Rebel T3.
Buy it on Amazon!
At the time of writing, the D5100 was available on Amazon for these prices. If you're looking for a mid range camera, we'd certainly recommend putting the D5100 on your shortlist.
Nikon D5100 Digital SLR Camera – Body Only – £630
Nikon D5100 Digital SLR Camera (18-55mm VR Lens Kit) – £699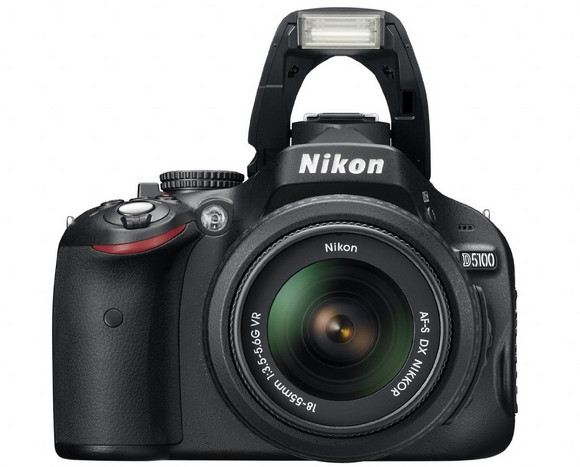 Nikon D5100 main features:
16.2 megapixel DX-format CMOS image sensor: delivers lifelike images with vivid colors, reduced noise and smooth tonal gradations.High ISO (100-6400) light sensitivity – manually extendable up to 25600 using the Hi2 setting. Enables faster shutter speeds for finely detailed images with minimal noise when you shoot fast-moving subjects or take pictures in low light. Features an Auto ISO setting.

EXPEED 2 image processing engine: optimizes the camera's technologies for superior performance and maximum image quality.

7.5 cm (3-in.), 921k-dot vari-angle LCD monitor with wide viewing angle: lets you capture unique shots from any angle. Boasts a side opening mechanism that makes it easy to shoot self-portraits or use a tripod.

D-Movie – full HD (1080p) movie clips: a dedicated movie-record button right next to the shutter-release makes it easy to keep the camera steady when you switch between recording stills and movies. AF-F mode keeps everything in focus, and the camera's vari-angle monitor and Special Effects mode enable unique shots. The camera supports use of an external microphone and offers 30p, 25p and 24p frame rates.

Live View with Scene Auto Selector: makes it easy to compose images using the vari-angle LCD monitor. Scene Auto Selector will select the best mode for the scene and subject you want to capture. Boasts easily selectable AF modes, including Face Priority AF that detects and tracks faces within the frame.
Razor-sharp 11-point AutoFocus system: offers fast and precise autofocus coverage across the frame. Four AF-area modes, including 3D-tracking AF, deliver sharp results, whether your subject is off-center, moving fast or completely unpredictable.

4 fps continuous shooting: enables you to capture fast-moving action at four frames per second.

Special Effects mode: lets you shoot distinctive still images and movies using a special effect. Offers a range of effects, including Color Sketch, Miniature effect, Night Vision and Selective Color that lets you emphasize up to three colors of your choice and turns the rest of the image to monochrome.

Scene Modes automatically adjust camera settings, including Picture Controls and active D-Lighting, to take the guesswork out of tricky photo situations and deliver optimal results. Simply turn the mode dial to SCENE to access the most commonly used modes. Sample photos appear on the display to help you select the right mode.

HDR (High Dynamic Range) imaging: delivers exquisitely detailed shots of high-contrast scenes. Takes two shots within a single shutter release to create an image with an extremely wide dynamic range, low noise and rich color gradation.

Extensive in-camera Retouch Menu: lets you edit and enhance photos and movies in the camera. Offers a range of effects and filters including Perspective Control, Soft Focus and Color Outline, which transforms your photo into a line drawing.

Dual Integrated dust reduction system: Image Sensor Cleaning and Airflow Control systems keep dust away from the camera's image sensor for clear, spot-free images.

HDTV compatibility: camera features a built-in HDMI connector with HDMI-CEC support so you can view your photos and movies on any HDTV and control playback features using your TV's remote control.

Infrared front and back receiver: helps prevent image blur when shooting close-ups and self-portraits.

Stereo sound: designed specifically for D-SLRs, Nikon's optional Stereo Microphone ME-1 lets you record movie clips in high-quality stereo sound, with no AF noise. Comes with windscreen and soft case accessories.