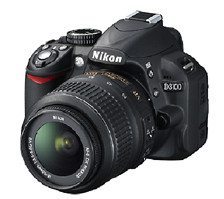 Nikon has shown off its shiny new D3100 camera, an entry-level dSLR replacing the budget Nikon D3000 which proved to be something of a hit with cut-price snappers.
Billed as the smallest and lightest Nikon D-SLR yet, the diminutive D3100 packs a DX-format, 14.2 megapixel CMOS image sensor, with a new image processing engine doing all the clever stuff behind the scenes.
[Update April 2012: the new Nikon D3200 has been announced!]
Snappy processing
Nikon seem pretty chuffed with their new EXPEED 2 image processing whatsit, insisting that it can lay down, "enhanced movie recording, high-sensitivity performance and maximum image quality," before moving on to serve up, "clear, lifelike images that exhibit vivid colours, reduced noise and smooth tonal gradations for outstanding photos and movies."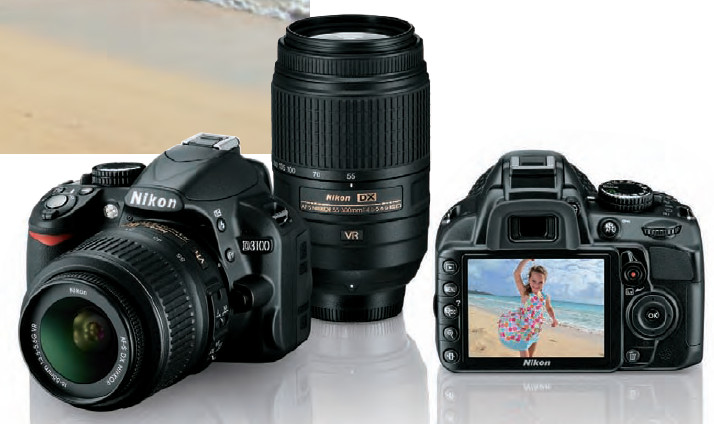 HD everywhere
That all sounds pretty good to us, and even better is the new D-Movie feature which can record full HD clips (1920 x 1080) at 24fps, with the ability to add 'cinematic effects' and simple edits in-camera.
Once you've created your HD masterpiece, you can delight in their Hitchcockian HD glory by hooking up your camera to your  TV via the HDMI port to watch your HD movies on a HD television, perhaps while drinking HD tea.
Oooh, so sensitive
Nikon wants you to keep shooting when the lights go down, with the D3100 offering ISO sensitivity up to 3200, extendable up to HI 2 (ISO 12800 equivalent).
Stills can be edited in-camera – so the dreaded 'red eye' can be removed without firing up your PC – and there's a nifty dual integrated Dust Reduction System to keep your pictures free of dust, thrack and other airborne undesirables.
Live View
The SLR also serves up Live View on its 3″ LCD monitor and there's a new AF-F mode and Scene Auto Selector onboard too.
The Scene Auto Selector automatically selects the best mode to match the scene, while the AF-F mode keeps subjects in focus without the need to press the shutter release button.
Auto-focussing is taken care of with a 11-point autofocus system, while Active D-Lighting is on hand to try and stop images being bleached out and objects disappearing into the shadows.

Guiding hand
To help  new users get to grip with the D3100 without wading through hefty manuals, Nikon has included an onscreen 'refined' guide, serving up tips and explanations for each of the camera's functions.
The Nikon D3100 body only retails for £499.99, while the B3100 kit with the 18-55mmVR lens will set you back £579.99 – not as cheap as some of its rivals perhaps, but still great value for such a hugely capable dSLR.
Update: buy the Nikon D3100 18-55vr kit for £480 on Amazon.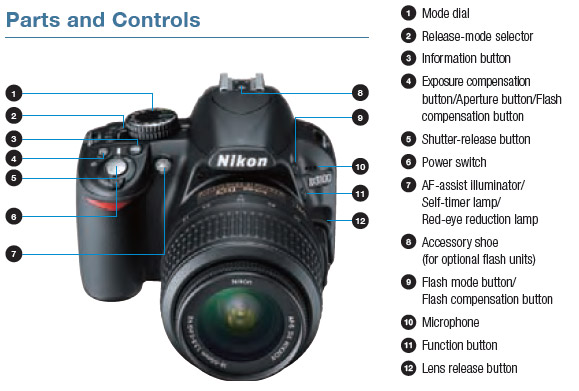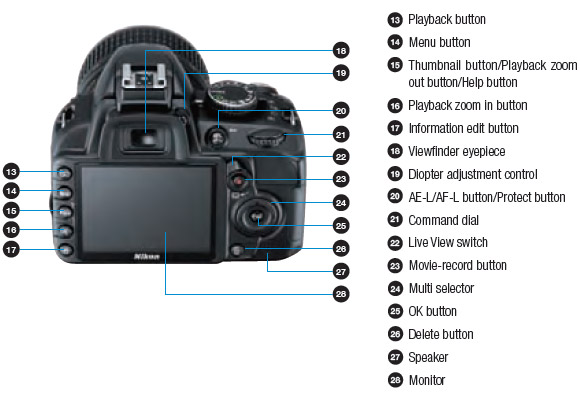 Nikon D3100 digital-SLR camera primary specifications
Type
Single-lens reflex digital camera
Lens mount
Nikon F mount (with AF contacts)
Effective pixels
14.2 million
Image sensor
23.1 x 15.4 mm CMOS sensor
Image size (pixels)
4,608 x 3,072 [L]
3,456 x 2,304 [M]
2,304 x 1,536 [S]
File format
1) NEF(RAW), 2)JPEG, 3)NEF(RAW)+JPEG
Media
SD (Secure Digital) memory cards *1, SDHC- and SDXC-compliant
Frame advance rate
Up to 3 fps *2
ISO sensitivity
ISO 100 to 3200 in steps of 1 EV; Can also be set to approx. 1 EV above ISO 3200 (ISO 6400 equivalent) or to approx. 2 EV above ISO 3200 (ISO 12800 equivalent); auto ISO sensitivity control available
Movie
Frame size (pixels) and frame rate: 1,920 x 1,080; 24 p – 1,280 x 720; 30 p – 1,280 x 720; 25 p – 1,280 x 720; 24 p – 640 x 424; 24 p
Maximum Recording Time:10 min.
File format/Video compression: MOV, H.264/MPEG-4 Advanced Video Cording
Audio recording device; Supported:monaural recording with built-in microphone.
LCD monitor
3-in., approx. 230 k-dot TFT LCD with brightness adjustment
Power source
Battery; One rechargeable Li-ion EN-EL14 battery
AC adapter(optional);EH-5a AC adapter; requires EP-5 power connector
Dimensions (approx.)
(W x H x D)
124 X 96 X 74.5mm
Weight (approx.)
455g without battery, memory card, or body cap,
505g;with battery and memory card but without body cap
Major supplied accessories
EN-EL14 rechargeable Li-ion battery, MH-24 battery charger, AN-DC3 camera strap, ViewNX 2 CD-ROM, Ferrite Core (2 types)