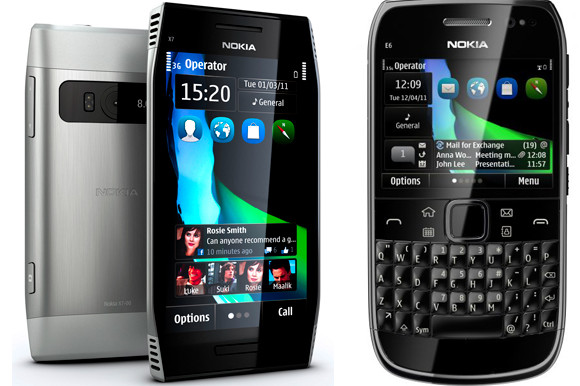 We have to admit that we're finding it pretty difficult to get worked up over any Nokia phone these days, but the company are still ploughing on with the release of two new Symbian-powered smartphones, the E6 and the X7.
Nokia E6
Targeted at swivel-action business types, the E6 struts its stuff with a full QWERTY keyboard for inputting those important corporate notes and emails, with all the action visible on a 2.46-inch 640 x 480 pixel touchscreen display.
Succeeding Nokia's popular Nokia E71 and Nokia E72 devices, there's also an 8-megapixel camera onboard, plus GPS, 802.11n Wi-Fi, and a 1,500mAh battery offering up to a month's standby time.
Nokia X7
Looking by far the more attractive offering, the X7 serves up a larger 4-inch 640 x 360 resolution AMOLED screen, backed by 8GB of storage, an 8-megapixel camera capable of recording 720p HD video.
Hewn from stainless steel and glass, the entertainment-focused smartphone comes preloaded with the popular Galaxy on Fire HD and Asphalt 5 HD games.
Updated OS
Both handsets will run Nokia's updated Symbian "Anna" operating system which rocks new icons and usability enhancements such as improved text input, a faster browser and refreshed Ovi Maps.
Launch date for both phones is scheduled for the second quarter of this year, but Nokia are currently keeping Mum on pricing information.
Here's the full press release:
Nokia E6 extends business mobility range and Nokia X7 introduces a new entertainment device for mobile gamers, both using the latest update of Symbian software

Espoo, Finland – Nokia today announced the Nokia E6 and the Nokia X7, two new smartphones aimed at business people and entertainment enthusiasts respectively. The two devices are the first Nokia smartphones to contain the updated Symbian software, with new icons and usability enhancements such as improved text input, a faster browser and refreshed Ovi Maps.

"We are further strengthening Nokia's smartphone portfolio with these two new devices, both of which offer a more beautiful and intuitive user experience that will soon also be available for the Nokia N8, Nokia E7, Nokia C7 and Nokia C6-01," said Jo Harlow, head of Nokia's Smart Devices business. "With these new products and more Symbian devices and user enhancements coming in the near future, we are confident we can keep existing Nokia smartphone customers engaged, as well as attract new first-time and competitor smartphone users."

Following on from Nokia's highly successful Nokia E71 and Nokia E72 devices, the Nokia E6 is a sleek business smartphone with a full QWERTY keypad and a high resolution touch display. Designed using premium materials such as glass and stainless steel, the device comes in a compact size that makes it easy to use with either one hand or two. The Nokia E6 offers exceptional battery life and the best out-of-the-box Microsoft messaging experience on a business smartphone, including access to Microsoft Exchange, Microsoft Communicator Mobile and Microsoft SharePoint.

The Nokia X7 is an entertainment-focused smartphone with a large 4″ display ideal for gaming, and an 8 Megapixel camera for capturing pictures and HD-quality video. A distinctively designed device, the Nokia X7 is made from a combination of seamless stainless steel and glass – delivering a solid and durable feel in the hand. The Nokia X7 comes preloaded with the popular Galaxy on Fire HD and Asphalt 5 HD games.

The Nokia E6 and Nokia X7 are also the first smartphones to contain the complete update of the Symbian software user experience. This update offers a host of usability enhancements, including fresh, new icons, improved text input, a faster internet browsing experience and a refreshed Ovi Maps application with improved search and new public transport routes. The renewed software also offers a strong set of new features aimed at business users in particular, including true enterprise grade security with hardware accelerated encryption, and new e-mail features such as full meeting request support.

In coming months the software update, which is nick-named Symbian Anna, will also be available as standard on newly shipping Nokia N8, Nokia E7, Nokia C7 and Nokia C6-01 devices, as well as available to download on previously purchased models of those same smartphones.

For developers, Symbian Anna greatly enhances the user experience on Nokia smartphones and makes the Qt business opportunity with Nokia even greater. Read more at: http://blogs.forum.nokia.com/blog/nokia-developer-news/

For more details on the Nokia X7 and Nokia E6, please visit: http://events.nokia.com/discover-symbian