Hot out of Nokia's busy factories and set  to launch in the first quarter of next year is two new entry level 3G sliders, the Nokia 6700 slide and Nokia 7230.
The Symbian-powered Nokia 6700 slider comes with a fairly nifty feature set for a budget jobbie, boasting a not-to-be-sniffed-at 5 megapixel camera with dual LED flash and popsh Carl Zeiss optics.
There's also 2.2 inch QVGA display, HSDPA/HSUPA connectivity, Bluetooth 2.1 + EDR, an FM radio and  microSD expansion slot onboard.
Offered in a veritable rainbow of groovy colours, the Nokia 6700 slide will be knocked out for €160.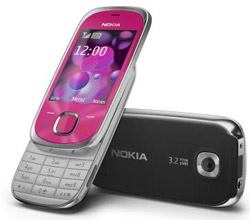 Nokia 7230
Offering a lower spec sheet but served up in curvy form factor is the Nokia 7230 (we think it looks better, to  be honest).
According to Nokia, the handset comes with a "subtle illumination" to indicate if you have missed calls or messages from your friends.
This sleek, Symbian S40-powered fella features a 2.4 inch QVGA display, 3.2 megapixel camera, FM radio, Bluetooth and microSD expansion slot, and will retail for a pocket-unflustering €100.