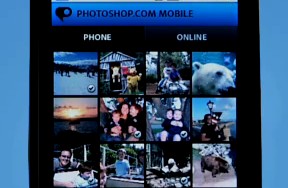 We posted up about the Photoshop.com mobile app for Android some time ago, but at the time only US users were able to gorge themselves on the pixel tweaking glory of the app.
The good news is that the free photo editing app is now available globally. Huzzah!
Boasting a sleek interface, a simple and a toolbar-style drop-down menu serving up a range of editing tools and effects, the app gives users a selection of useful, if basic, image editing tools.
These include cropping, image rotation, colour controls, along with simple one-touch filter effects backed by undo and redo controls if you get a little over-creative.
Edited images can either be saved on the phone or uploaded to the user's account, with the option to directly upload photos taken on the phone.
Grab yourself a copy from the Android marketplace now!
Press release
Photoshop.com Mobile for Android Now Available Globally

Adobe Photoshop.com Mobile for Android, released on Nov. 6, 2009, is now available globally in all countries with Android Market. Based on customer feedback, this release also includes improvements to the user experience around launching and exiting the application. In support of this update, Photoshop.com will be available on Twitter to answer questions and share feedback. To join the conversation, follow @photoshopdotcom on Twitter and use the hashtag #PSdroid.

Photoshop.com Mobile for Android optimises the camera-phone experience by offering users quick access to their photos with easy editing and sharing. The application features basic editing tools like crop and rotate, colour adjustments and a photo browser that makes it simple to maneuver through photos. In addition, users have the ability to view their entire online collection of photos from Photoshop.com and share those images from their phone via email.

Availability
Adobe Photoshop.com Mobile for Android is now available as a free download in all countries with Android Market. The application is initially available in English only.