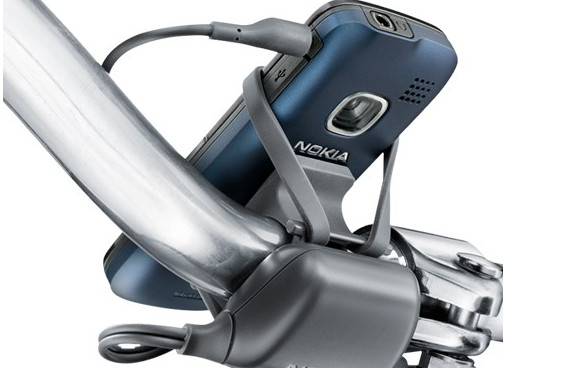 It's been pedalling very slowly towards us – Nokia's bike-powered mobile phone charger was in fact supposed to have wobbled our way by the end of 2010 – but it's finally made the UK and is now available in Nokia's store for £25.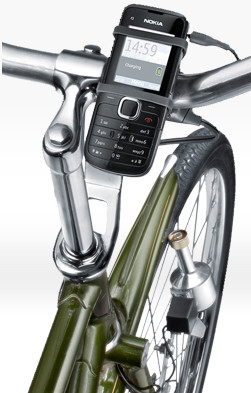 Power riding
The handlebar-mounted charger certainly seems up to the job, with Nokia saying that it can charge as efficiently as their regular mains mobile charger once you're attained the stately speed of just 7.5 mph.
The company advises that users have to pedal at least 4 mph – and no more than 31 mph – to provide sufficient energy for effective charging.
With a 10 minute journey producing enough power for 28 minutes of talk time or 37 hours of standby time, this looks to be a very handy product, especially for developing countries. Like Luton.
What's in the bag
The kit comes with the Nokia Bicycle Charger (DC-14), Nokia Phone Holder for Bicycle (CR-124) and a Bottle Dynamo, which looks the same as a regular bike lighting dynamo.
There's also a phone cover lobbed in to keep your handset safe from dust and the inevitable rain.
The holder and dynamo can be strapped onto your trusty steed using a time-honoured combination of cable ties, nuts and bolts, with the cable terminating in a standard Nokia 2mm power jack.
The optional  Nokia Charger Adaptor (CA-146C) lets users convert this to microUSB for a wider range of devices, although we imagine you'll have to do a fair bit more cycling to charge power-hungry smartphones.

Nokia DC-14 Bicycle Charger Kit specs:
Dynamo: 40.5 x 94.5 mm
Charger: 70 x 34 x 21 mm
Phone holder: 142 x 22 x 24 mm
Connecting cables: 500 mm + 375 mm (from charger to dynamo), 350 mm (from charger to phone)
Weight
Dynamo (with mountings): 250 g
Dynamo (excluding brackets): 190 g
Charger: 36 g
Phone holder: 11.5 g
Connectors
2 mm charging interface
Operating temperature
-15°C to +55°C
Power generation:
Compatible with bottle type bicycle dynamos with 6 V/3 W and 12 V/3 W output
5.0 V/450 mA/15 km/h. Maximum current 70 mA
Charging starts at ~6 km/h and maximum output is achieved at 25 km/h. Charging stops when the speed reaches 50 km/h.
Charging time depends on cycling speed, for example a Nokia 1202 with a 860 mAh battery can be charged with about 20 minutes of cycling at a speed of about 10 km/h (for the Nokia 1202 this would mean approximately 57 mins talk time or 74 h standby time)