If you tend to spend a fair bit of time working with Google Docs, you may like to give this handy desktop app a look, which offers a fast way to take notes and sync them with your Google Docs account.
Sweet'n'simple
Served up up in a simple and rather attractive interface, the NoteSync app lurks on your desktop ready to let you quickly rummage through your Google Docs notes, or swiftly slam down a note.
Any notes or edits are automatically synced every 60 seconds with your Google Docs account, and there's several keyboard shortcuts to let you speed through the app.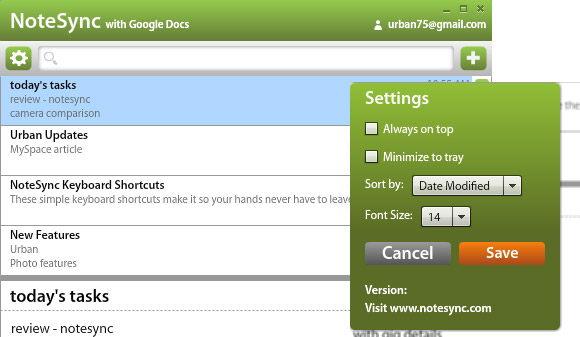 Local storage
Encrypted local file storage means that you can still access your notes when you're away from an internet connection, Which is handy.
Minimal options
In line with its 'keeping it simple' approach, there's not a lot else to the app: you can change the sort order of notes, alter the font size, have the window always appear on top or minimize it to the app tray.
A 'sync now' button lets you, err, sync now, while clicking the big '+' button opens up a boxfresh note. And that's it, really.
Android app coming soon
Notesync is available for $4.99 on the Windows and Mac platforms, and there's an Android app coming very soon – we've had a quick play with the beta and so far it looks great.
The developers are also promising bold/italic support, clickable links and tagging in future versions of the desktop version, which will make this a truly indispensable app for heavy Google Docs users. Recommended.
Ratings:
Ease of use: 



Features: 


Value for money: 


Overall: 


[NoteSync]